The popular policies Congress punted on fixing until 2018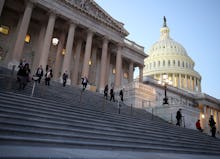 Welcome to Mic's daily read on Donald Trump's America. Want to receive this as a daily email in your inbox? Subscribe here.
Friday's dispatch: What's waiting on the other side of the holidays
Congress did what was expected for weeks on Thursday and passed legislation to fund the government until mid-January. But lawmakers largely punted until January on the long list of policies that need to be addressed in the near future.
The Children's Health Insurance Program still needs to be funded. That leaves 9 million children who rely on the program and their families in limbo.
Recipients of the Deferred Action for Childhood Arrivals program are still waiting on Congress to act. The nearly 800,000 undocumented immigrants who were brought to the United States as children are awaiting the decision. Each day, many lose the DACA status protecting them from deportation.
Nearly as many Americans bought into individual insurance plans during the Affordable Care Act's open enrollment period as did in 2016 — even though the enrollment period was half as long. Those 8.8 million people joined health care exchanges that are volatile after Republicans repealed the ACA's individual mandate, and — yes, again — pushed consideration of bills to keep health insurance premiums low until January.
Republicans did include disaster relief funding in the bill that passed the House and Senate on Thursday to continue funding the government. And automatic cuts to Social Security and Medicare, driven by the GOP tax bill, will not have to be addressed by Congress until 2018 given Trump will sign the legislation in the new year.
The Republican tax package, which will give most Americans a tax cut in 2017, was already loathed by a majority of Americans. Renewing CHIP, fixing the ACA and preserving DACA are highly popular initiatives, and decisions surrounding these programs will impact tens of millions of Americans, their families and friends.
At the beginning of an election year, congressional Republicans will have to decide whether to end, reshape or continue those policies. With a Democratic wave already projected in the 2018 midterm elections, how Republicans handle these popular policies in the new year will be watched closely.
Today's question: Do you think Republicans will renew these popular programs in January?
Please email us at trumpsamerica@mic.com with your thoughts.
Friday in Trump's America:
Entitlement reform: Sen. Mitch McConnell (R-Ky.) said Thursday he does not expect the Senate will take up changes to Social Security and Medicare in 2018. House Speaker Paul Ryan (R-Wis.) had repeatedly raised that possibility in recent interviews.
No. 1 news story of 2017: Sexual misconduct allegations and the #MeToo movement, according to a poll of Associated Press editors. Axios has a graphic of 82 high-profile men accused of sexual misconduct since Harvey Weinstein.
"2018 bloodbath": Trump's political advisers are projecting major losses for Republicans in 2018, driven by a loss in support among suburban women, Politico reported. The Washington Post writes that top Trump aides and allies are bickering over Trump's political strategy for 2018, unsure of the best course of action to prevent GOP losses.
Selling tax reform: Republicans are planning a "mega marketing push" to convince Americans their highly unpopular tax plan is a good thing. Spending will be in the tens of millions of dollars.
U.S. policy rejected at U.N.: The general assembly voted 128-9 on Thursday to condemn the United States recognizing Jerusalem as the capital of Israel. The symbolic vote was condemned in advance by U.S. Ambassador to the U.N. Nikki Haley, who said the U.S. will remember countries who rejected the American viewpoint and will consider cutting foreign aid after Trump made a similar threat.
Senate misconduct: On the same day Sen. Al Franken (D-Minn.) gave his final floor speech after being forced to resign over sexual misconduct allegations, a Senate office received filings showing $600,000 has been paid out over the last two decades to settle 13 workplace misconduct claims in senators' offices.
"Chain migration": The Trump administration is considering separating parents from their children if an undocumented family is caught entering the United States. The plan is part of Trump's goal of ending "chain migration," where an immigrant enters the country and then brings in family members.
Russian hacking: At least 200 journalists have been targeted by Russian hackers since 2014.
Steve Bannon update: Vanity Fair dives into the mind of the former White House chief strategist, who says he's disillusioned about Trump but still close to him — and very much waging war with McConnell.
J20 acquittal: Six people charged with rioting during Trump's inauguration in January had all their charges dismissed, possibly setting a precedent for hundreds of other similar cases from Jan. 20 demonstrations.
DACA demands: The 31-member Hispanic Caucus of mostly House Democrats marched to the office of Sen. Chuck Schumer (D-N.Y.), the Senate minority leader, to demand he prevent Democrats from voting to continue funding the government without a protection for DACA recipients. Schumer took the heat, but 17 Senate Democrats backed the bill on Thursday — far more than the eight the GOP needed.
Redistricting: The U.S. Census projects that there will be (no surprise) fewer House seats in the Rust Belt and more in the Sun Belt after the 2020 Census: 14 to 17 states could see their apportionment change.
Today's MicBite:
2017 proved to be a year of powerful women. Tap or click below to watch the video.