Cara Delevingne's new Jimmy Choo ad called out for being sexist: "Read the room Jimmy Choo!"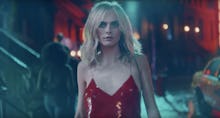 In a time when Hollywood, the media and the fashion industry are all seeing multiple sexual harassment, abuse and assault allegations flood in against some of their most powerful players, maybe showing the kind of blatant sexual harassment women can face on a daily basis in a fashion commercial isn't so chic.
Just take a look at this new Jimmy Choo ad starring Cara Delevingne. In it, Delevingne flocks to a sparkly pair of Choo boots. Upon putting them on, she walks down the street to hollers, whistles and comments from men.
She makes direct eye contact, smiles and struts on.
The ad, which debuted in November, has caused controversy because people think that it's glamorizing and normalizing catcalling, which doesn't strike pride in most women so much as unease and fear.
"They are making it look like catcalling is acceptable," one Twitter user wrote. "Pretending that catcalling is OK is wrong. No girl likes to be catcalled and followed if they are on their own on a night out. Don't want to be controversial, but the ad is normalizing a thing that guys shouldn't do."
Especially in a time like this, when women are rapidly speaking out about the horrors of sexual harassment, it felt like this Choo ad was majorly misreading the room.
Another puzzling element is that Cara Delevingne herself was one of the women who came forward with her story about an encounter with Harvey Weinstein, which ended with him asking Delevingne to his room.
"I felt very powerless and scared but didn't want to act that way hoping that I was wrong about the situation," she wrote on Instagram. "When I arrived I was relieved to find another woman in his room and thought immediately I was safe. He asked us to kiss and she began some sort of advances upon his direction."
Delevingne ended up fleeing, but it's clear from not just that story but her own personal history of speaking out about women's empowerment, that she too understands the problems with women being inundated with harassment from men they don't know on the street.
This ad just feels like a pile-on of bad judgment.