New poll reveals majority of Americans want more women in Congress, believe Trump's accusers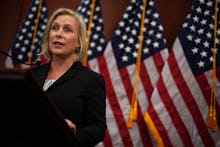 As allegations of sexual harassment continue to rock Washington, D.C., and spur several members of Congress to step down, a new poll has found the majority of Americans agree with those resignations — and think women should be running the country instead.
The poll, conducted by research firm SSRS Solutions from Dec. 14 to Dec. 17, revealed most Americans won't excuse sexual harassment allegations when it comes to their elected representatives. Seventy-nine percent of respondents said "the way an elected official treats women is an important indicator of his character and ability to serve in office," with just 13% saying their treatment of women isn't relevant to their ability to serve. If an elected official is accused of sexual misconduct, 60% of Americans believe they should resign, compared to 29% who say they shouldn't and 9% who believe it depends on the circumstances.
With sexual misconduct allegations taking down powerful men across a range of industries, the poll also made it clear Americans are taking the topic of sexual harassment seriously. Forty-nine percent of respondents said sexual harassment is a "very serious" problem in the country today, with 19% saying it's "extremely serious" and 22% believing it's "somewhat serious." Only 8% said it's "not very serious."
Given the outpouring of sexual misconduct allegations against men on Capitol Hill, poll respondents seemed to back a simple solution: Elect more women to Congress instead.
Sixty-four percent of survey participants believe the country would be governed better if more women held political office, with just 10% saying it would be governed worse and 16% saying there would be no difference. That number is higher than it has historically been: Only 57% said women would govern the country better when the question was posed in February 1999, while just 28% said so in July 1984 and 33% believed the same in August 1975.
But while most Americans seemed to support more women in Congress, few seemed to know about one of the Senate's most prominent female members: Sen. Kirsten Gillibrand (D-N.Y.). When asked about Gillibrand, a potential 2020 presidential contender who has recently taken aim at President Donald Trump — and drawn his ire on Twitter — 55% of respondents said they had never heard of her. Of those who had, 15% had a favorable opinion of Gillibrand, compared to 11% who had an unfavorable opinion and 19% who had no opinion. Another potential 2020 candidate, former Vice President Joe Biden, was rated favorably by 57% of respondents.
Though many apparently haven't heard of Gillibrand, it seems they agree with both her criticism of Trump as a sexual abuser and her calls for him to resign. Sixty-one percent of respondents said they believed the allegations that Trump made unwanted sexual advances to be "mostly true," with just 32% believing them to be mostly untrue.
The allegations don't reflect well on Trump's ability to govern: 64% said they believed the president's treatment of women "important indicator of his character and ability to serve as president." That number has risen slightly since before the days of Trump's presidency, as only 60% gave the same response when the question was posed in October 2016.
Trump was accused of sexual assault or sexual harassment by nearly 20 women during the 2016 election. Those allegations, which Trump has repeatedly denied, have been renewed in recent weeks, with three of the women holding a press conference in December calling for a bipartisan investigation into the president's behavior. Meanwhile, Gillibrand and other members of Congress have called on Trump to resign.
According to the poll, Americans agree Trump should face consequences for his behavior. Sixty-three percent of respondents believe there should be a congressional investigation into the allegations, while 36% said there should not be.
Half of respondents went so far as to say Trump should resign over the allegations against him. Forty-eight percent believed the president should not resign, while 2% said it depends on the circumstances.
The numbers are in line with another recent poll conducted by Quinnipiac University, which similarly found that 50% of Americans believe Trump should resign. Among women, the Quinnipiac poll revealed that 59% think Trump should resign — a number that rose to 61% in the SSRS poll.