While You Weren't Looking: 5 things the Trump administration did this week that didn't involve taxes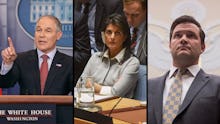 This week, the entire Washington media machine was focused on the passage of the Republican Party's sweeping tax overhaul and its implications for taxpayers and corporations.
But while the GOP celebrated its first big legislative win, the Trump Cabinet continued its streak of making major policy changes behind closed doors. Here's what you may have missed.
Trump threatens to cut off foreign aid to most of the world
The United Nations voted Thursday on a resolution to condemn the United States and the Trump administration for the provocative decision to move the U.S. embassy in Israel from Tel Aviv to Jerusalem.
Ahead of the vote, President Donald Trump threatened to cut off foreign aid to any country that voted in favor of the resolution.
"They take hundreds of millions of dollars and even billions of dollars, and then they vote against us," Trump said. "Well, we're watching those votes. Let them vote against us. We'll save a lot. We don't care."
A total of 128 countries heard that threat and, with their votes, demanded the U.S. reverse its decision anyway.
The resolution passed with overwhelming support from the international community. Only nine nations voted against the resolution, including the United States, Israel and five small Pacific Island nations.
The ball is now firmly in Trump's court to follow through with his threat.
EPA chief Scott Pruitt spends more taxpayer money on more spy crap
Back in September, Environmental Protection Agency Administrator Scott Pruitt came under fire for installing a $25,000 soundproof phone booth in his office.
Now the EPA chief is at it again, reportedly spending another $9,000 in counter-surveillance measures.
The new set of taxpayer expenditures includes everything from sweeping Pruitt's office for bugs — yes, he apparently thinks he's being bugged — to installing high-powered locks.
It's no secret Pruitt's positions on climate change and environmental protection are at odds with much of his staff at the EPA. But it takes a truly unique level of distrust to suspect climate scientists are risking their careers to engage in spy-thriller-level espionage against their boss.
Trump official tried to block undocumented minor who was raped from getting an abortion
Trump's head of the Office of Refugee Resettlement reportedly tried to prevent an undocumented minor who was raped from having an abortion. Newly released documents show ORR head Scott Lloyd argued that allowing a 17-year-old undocumented rape survivor to obtain an abortion would constitute "violence against an innocent life." 
"Even supposing it was possible to justify abortion in this context, abortion does not here cure the reality that she is the victim of an assault," Lloyd wrote in a memo. "I cannot authorize our program to participate in the abortion requested here, even in this most difficult case."
The undocumented minor, referred to as Jane Poe in court documents, was able to receive an abortion following a ruling from a federal judge.
Trump's Netherlands ambassador caught lying, uses classic "fake news" excuse — then lies about that, too
Trump's ambassador to the Netherlands, Pete Hoekstra, was caught on camera lying about whether he had previously claimed the Netherlands has so-called "no-go zones" — a popular conservative myth about places where Muslims don't allow people to travel.
Once confronted with the fact he was lying, Hoekstra made the brazen move of lying again about what he'd previously said on camera.
"At one point you mentioned in a debate that there are no-go zones in the Netherlands, and that cars and politicians are being set on fire," a reporter for the Dutch television program Nieuwsuur said to Hoekstra.
"I didn't say that. That's actually an incorrect statement," Hoekstra replied. "We would call it 'fake news.'"
The reporter then played Hoekstra a clip of the comments he made in 2015: "The Islamic movement has now gotten to the point where they have put Europe in chaos. Chaos in the Netherlands, where there are cars being burned, there are politicians that are being burned.
"And yes, there are no-go zones in the Netherlands," Hoekstra said in the clip.
After watching, Hoekstra, somewhat incredibly, denied having ever called the assertion "fake news."
"I didn't call that fake news," Hoekstra said. "I didn't use the word today, I don't think I did."
ICE approves a plan to separate undocumented families at the border
Three Homeland Security officials told the New York Times that Immigration and Customs Enforcement has approved a plan to separate immigrant families at the U.S.-Mexico border.
The draconian plan is intended to discourage undocumented immigrant families from coming to the U.S. by isolating children from their parents while officials determine whether those families will be deported.
Immigrant rights groups have denounced the plan for its blatant cruelty.
Some organizations claim that even without a formal policy change, ICE has already begun splitting up families at the border and claim to have over 150 documented cases where families were separated.