Ohio to ban abortions for fetuses diagnosed with Down syndrome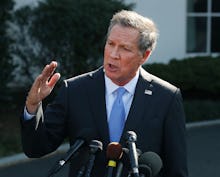 Ohio Gov. John Kasich signed into law on Friday a bill that makes it illegal for doctors to perform an abortion on a fetus that has been diagnosed with Down Syndrome.
The law — which goes into effect in 90 days — "prohibits a person from performing, inducing, or attempting to perform or induce an abortion on a pregnant woman who is seeking the abortion because an unborn child has or may have Down Syndrome," according to a news release from Kasich's office.
Two other states — Indiana and North Dakota — have passed similar laws.
Indiana's law was struck down in September by U.S. District Court Judge Tanya Walton Pratt, who said in her decision that the "United States Supreme Court has stated in categorical terms that a state may not prohibit any woman from making the ultimate decision to terminate her pregnancy before viability."
In order to challenge the bill, either someone seeking an abortion in Ohio for a fetus with Down Syndrome or a doctor who cannot perform an abortion because of the new law would have to file a lawsuit.
NARAL Pro-Choice America, an abortion-rights organization, said in a statement that the Ohio bill is "clearly unconstitutional."
"When a woman receives a diagnosis of Down Syndrome during her pregnancy, the last thing she needs is Gov. Kasich barging in to tell her what's best for her family," NARAL Pro-Choice Ohio executive director Kellie Copeland said in a statement. "This law shames women and will have a chilling effect on the conversations between doctors and patients because of the criminal penalties that doctors will face."
However, anti-abortion groups are celebrating Kasich's move.
"Ohio has given unborn children with Down syndrome and their families an early Christmas present and created a safe haven from lethal discrimination," Susan B. Anthony List president Marjorie Dannenfelser said in a statement.