Comey defends counsel tied to Trump dossier amid "partisan" attacks on the FBI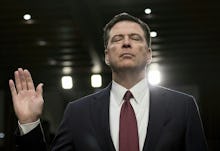 Former FBI Director James Comey on Friday defended James Baker — the bureau's top legal counsel linked to the explosive Steele dossier — against what he described as "partisan" attacks.
"Sadly, we are now at a point in our political life when anyone can be attacked for partisan gain," Comey tweeted Friday night.
It was reported Friday that Baker is being reassigned amid an investigation by Republicans in the House of Representatives over his contact in 2016 with David Corn, the Mother Jones reporter who first reported the existence of the now-infamous dossier that tied President Donald Trump to Russia — and that made the salacious claim that the Kremlin had a video of prostitutes performing a "golden showers" show for Trump in a Moscow hotel room where Barack and Michelle Obama once stayed.
Baker communicated with Corn in the weeks leading up to the 2016 presidential election, Republican lawmakers told Politico, citing documents released to them by the Department of Justice.
But Corn, who broke the dossier story in late October 2016, said in a statement to the publication that Baker had not been his source.
"I'm not going to discuss my sources," Corn said. "But in order to prevent the dissemination of inaccurate information, I will say that James Baker was not my source for this story."
Still, Republicans have seized on the apparent communications between the two as part of their recent attacks on the FBI, which is investigating Russia's interference in the 2016 election and connections between the Trump campaign and the Kremlin.
Robert Mueller, the special counsel who has overseen the FBI probe since Trump fired Comey in May, has been accused of leading a politically-motivated "witch hunt" against Trump, and a number of the president's allies have called for his investigation to be shut down.
In response, Democrats have urged their colleagues on Capitol Hill to protect the special counsel from any attempts by Trump to fire him.
"It is critical that all of us, as elected officials and citizens, speak up against these threats now before it's too late," Sen. Mark Warner (D-Va.) said Wednesday on the Senate floor in an impassioned speech.
Comey has been a target of Trump's ire on numerous occasions since he was fired in May, with the president tweeting earlier this month that he'd left the FBI's reputation in "Tatters."
Comey, for his part, has made a number of subtle digs at Trump.
After Trump's former national security adviser, Michael Flynn, pleaded guilty earlier this month to lying to FBI agents over his contacts with the Russian ambassador, Comey quoted a Bible verse on Twitter, "But justice roll down like waters and righteousness like an ever-flowing stream."
On Friday, he defended Baker as someone "we should all want our public servants to be."
"[Baker] served our country incredibly well for 25 years and deserves better," Comey wrote.
Corn agreed, tweeting Saturday morning that Baker had "lost hours of sleep working to protect this country."
"This is so true," Corn wrote, citing Comey's tweet. "He deserves better."