This week in Trump-Russia news: President puts exoneration on Christmas list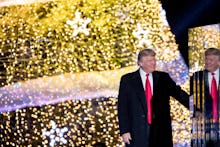 President Donald Trump headed into the Christmas weekend in good cheer, apparently believing that Robert Mueller will soon clear him of wrongdoing in the Russia probe.
But he may find himself disappointed, according to aides, who worry over a Trump "meltdown" if the special counsel's probe doesn't seem to go in the president's favor.
Here's what you need to know about the Russia probe this week.
Trump thinks he'll be absolved by Mueller
Trump — who has spent months railing against the Russia probe — has recently adopted a less antagonistic attitude toward the investigation, CNN reported this week.
According to aides, Trump's legal team has advised him that Mueller will clear him in the coming months — something for which there does not appear to be any proof.
That has some of his allies concerned he'll grow even more frustrated with investigators if the special counsel does not exonerate him.
"He'll try and fire Mueller and then be impeached," a source familiar with Trump's recent conversations told CNN, predicting a possible "meltdown" on the part of the president.
Trump allies keep pressure on Mueller
Meanwhile, Trump's allies have continued to go after Mueller and his team.
Last weekend, a lawyer for Trump's transition team accused the special counsel of "unlawfully" obtaining tens of thousands of transition emails, claiming the messages were "susceptible to privilege claims."
But, as former federal prosecutor Renato Mariotti tweeted, Mueller's move was "not unusual." That the move was met with objection from Team Trump suggests "they're concerned about Mueller's investigation and are doing whatever they can to discredit it."
"Their claims themselves are weak and meant to persuade people who know nothing about criminal investigations," according to Mariotti.
The accusation came as Republicans escalated their attacks on Mueller following revelations that he'd kicked an agent off his team for sending anti-Trump texts to a colleague.
Those attacks continued this week, with Trump's allies suggesting Mueller is leading a politically motivated campaign to undermine the president.
"It seems like Mueller's basically the Democrat candidate for president," Fox News' Jesse Watters said Saturday on the Ingraham Angle. "It's the only person who could stop Donald Trump's re-election."
Democrats step up defense of Mueller
Amid anxiety over rumors that Trump is considering getting rid of Mueller or Deputy Attorney General Rod Rosenstein, Democrats have more aggressively defended the probe in recent days, urging their colleagues on Capitol Hill to protect the special counsel.
In a dramatic speech on the Senate floor Wednesday, Sen. Mark Warner (D-Va.) called on Congress to "make clear to the president that firing the special counsel or interfering with his investigation by issuing pardons of essential witnesses is unacceptable and would have immediate and significant consequences."
He also condemned Republican critics of the special counsel, saying their attacks on the investigation were "reckless."
"Firing Mr. Mueller or any other of the top brass involved in this investigation would not only call into question this administration's commitment to the truth, but also to our most basic concept: rule of law," Warner said. "It also has the potential to provoke a constitutional crisis. In the United States of America, no one — no one — is above the law. Not even the president."
Trump denied he is considering firing Mueller, but has reportedly pressured lawmakers in an attempt to kill the three congressional Russia probes.
Rep. Nancy Pelosi (D-Calif.), the top Democrat in the lower chamber, called on House Speaker Paul Ryan to protect the House probe in a letter this week.
"Nothing less than America's democracy and national security are at stake, and therefore we must fully investigate Russia's assault on our election systems to prevent future foreign attacks," Pelosi wrote to Ryan on Thursday. "We expect that you will take urgent action to ensure this investigation can continue, and justice can be pursued, unhindered."
Bannon asked to appear before House panel
Speaking of the House, Steve Bannon — Trump's former chief strategist — has been asked to appear before the House Intelligence Committee, along with former Trump campaign manager Corey Lewandowski.
The Breitbart head — who remains a close outside adviser to Trump — has so far not been a big a focus in the Russia investigations, despite having helmed Trump's campaign in the final leg of the 2016 presidential race.
The invitations — which were sent out this week — are "voluntary" requests to appear.
Neither Bannon nor Lewandowski has responded to the requests.
Aides try to silence Trump on Russia probe
Trump capped a chaotic 2017 with the first major legislative win of his presidency, signing a sweeping tax bill into law Friday before heading to his Mar-a-Lago resort for the holiday weekend.
Riding high on his victory, Trump reportedly "wanted to hold a news conference" that presidents have typically given at the end of the year, but aides persuaded him not to — possibly because they don't want him speaking from the cuff on the Russia investigation, according to CNN.
But Trump still managed to air some of his grievances against the FBI amid its investigation into his campaign, firing of a series of tweets Saturday afternoon suggesting pro-Clinton bias on the part of former FBI director James Comey and deputy FBI director Andrew McCabe.