Hype List: What to check out this week, including 'Black Mirror,' Chance the Rapper and more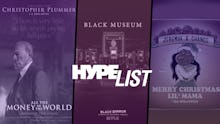 Welcome to the Hype List, a weekly recommendation series in which columnist Tirhakah Love highlights all of the pop culture happenings — movies, music, television, books and more — you need to know about.
Movie: All the Money in the World
There's a fascinating story behind Ridley Scott's newest film, All the Money in the World, and we're not talking about the real-life kidnapping and $17 million ransom that inspired the movie. We're talking, of course, about Scott's decision to replace Kevin Spacey — who originally filmed scenes as oil tycoon J. Paul Getty, grandfather to the kidnapped John Paul Getty III — with Christopher Plummer. The last-minute change-up came in the wake of allegations of sexual misconduct against Spacey. Despite filming all his scenes in late November, amid a scandal and in the span of just nine days, Plummer has managed to earn some accolades, including a Golden Globe nomination.
Meanwhile, the story within the actual film has a pulpy, true-crime appeal — and that's in addition to tackling themes of money-poisoning personal relationships and family dynamics. But All the Money in the World is really notable for being the first major work of art to come out of this post-Weinstein moment.
All the Money in the World is in theaters now.
Music: Merry Christmas Lil' Mama: Re-Wrapped by Chance the Rapper & Jeremih
Chance the Rapper is one of the more open-hearted artists in hip-hop, so it makes sense that he'd gift his fans a free album for Christmas. Last December, he teamed up with fellow Chicagoan Jeremih for a mixtape called Merry Christmas Lil' Mama — now they've reunited for a deluxe edition dubbed Merry Christmas Lil' Mama: Re-Wrapped. The new release — which complements the original's nine tracks with 10 brand-new songs — is joyfully black, filled with gospel-twerk tunes. If Chance's heaven-looking Coloring Book tickled your fancy, just peep songs like "Ms. Parker" and "Family For," which are blessed with the rapper's signature blend of heady rhymes and family-man cheer. Here's hoping Chance and Jeremih keep this tradition going.
Merry Christmas Lil' Mama: Re-Wrapped is available now on SoundCloud.
TV: Bill Nye Saves the World
It might sound naive, but Bill Nye gives us hope that we'll someday live in a more science-literate world. The inaugural season of his Netflix show, which debuted back in April, paired Nye's plainspoken explorations of topics like biology, climate change and A.I. with a rotating cadre of celebrity guests. And the talk show is already back for a second season, making science accessible with deep dives into issues and concepts like marijuana legalization, cybersecurity and time travel.
Expect more cameos, this time by comedian Ali Wong, NBA great Byron Scott, Lost co-showrunner Carlton Cuse and more. Also, this season, Nye and co. are trying to save the world six episodes at a time — the first half of season two will help us ring in the new year, while the latter half is reportedly set to premiere sometime in 2018. The delay's understandable, though: If we're going to turn that science literate world into a reality, it won't happen overnight.
Bill Nye Saves the World will be released Friday on Netflix.
TV: 40th Annual Kennedy Center Honors
We don't normally highlight events like this here, but we're making an exception in this case. At this year's Kennedy Center's Honors — which took place Dec. 3 but is airing on CBS as a two-hour primetime special — LL Cool J made history as the first-ever hip-hop artist to be recognized during the annual gala.
The Queens rapper might seem like a safe or dated pick, but if the Kennedy Center is finally opening up to hip-hop (and, seriously, it's about time), then LL Cool J makes sense as the inaugural honoree — not just because of the stone-cold classics he released as an emcee (namely 1985's Radio and 1990's Mama Said Knock You Out), but also because of his crossover success and lengthy career. But if LL isn't enough to make you want to tune in, then maybe you'll want to catch global pop icons Gloria Estefan or Lionel Richie — they were both recognized at this year's event, too. Making the deal even sweeter? Viewers won't have to put up with Donald Trump mugging for the camera; he skipped the show.
The 40th Annual Kennedy Center Honors will air on CBS Tuesday.
TV: Black Mirror
Sure, the world seems to be crumbling into a brutal, terrifying hellscape, but Black Mirror is back to lighten the mood. OK, we're mostly joking, but creator Charlie Brooker has gone on record as saying there's "some more hope" in the upcoming fourth season of his sci-fi/horror anthology series, which is apparently set in one shared universe. Some might dispute just how much the tone has changed, though; this is still Black Mirror, after all. We're surely in for an intense look at how technology will spell our undoing or salvation. So, yes, these six new episodes — one of which is directed by none other than Jodie Foster — are here just in time for a breezy holiday binge.
The fourth season of Black Mirror will be released on Netflix Friday.