After tax bill passes, Trump reportedly tells his friends they all just got a lot richer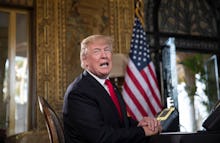 President Donald Trump is spending the Christmas holiday at his Mar-a-Lago estate in Palm Beach, Florida — and it appears that he's boasting about the holiday present he just gave to his wealthy friends.
According to CBS News, Trump told friends at a Friday night dinner at Mar-a-Lago that they "all just got a lot richer," referencing the tax reform bill that he had signed into law hours earlier.
Trump's off-hand comment sharply contrasts with the GOP's efforts to cast the tax reform bill as good for the middle class — even as evidence suggests otherwise.
"This is a middle-class tax cut, no two ways about it," House Speaker Paul Ryan told NPR.
The president himself has even publicly claimed that the bill wouldn't advance his own interests — or, presumably, those of his similarly wealthy friends — saying in a speech in late November: "This is going to cost me a fortune, this thing — believe me. Believe me, this is not good for me."
The actual effects of the bill, however, are likely far more in line with Trump's Mar-a-Lago remark. Mic previously reported after the bill's passage that the final tax plan will benefit the top 0.1% of earners most over the long term, while American households making $75,000 or less will all end up paying more by 2027.