Mic Wakeup: Happy Holidays. Here's everything you missed during your Sunday with loved ones.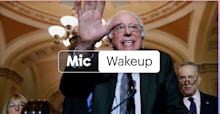 Happy Holidays. Hope it's a lovely one. Here's everything you missed while you took a wee break from the news.
Bernie: We need a revolution for women.
At a Sunday appearance on Meet the Press with Jake Tapper, Independent Sen. Bernie Sanders of Vermont pulled no punches in calling for a revolution in the way that women are treated in the workplace. His call comes in the midst of the #MeToo movement, in which powerful men are being held accountable for their alleged sexual misconduct. Check it out here.
Trump's holiday present to his friends
Congressional leaders have explained the GOP tax plan as a gift for the middle class. President Donald Trump once said he'd lose big if the tax bill passed. But over the weekend, he seemed to have contradicted his party's talking points, telling friends gathered at his Mar-a-Lago resort that the bill makes them a lot richer. The full story is here.
The future of CHIP
If you've turned on the news or checked Twitter throughout the course of the past few months, you might have caught people talking about the uncertain future of the Children's Health Care Program — better known as CHIP — which brings health care to millions of children whose families could not otherwise afford it. Here's everything you need to know about what's next for the program.