On Sunday evening, Donald Trump declared himself victorious in the so-called "war on Christmas"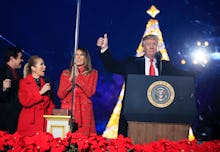 If you're one of the 90% of Americans who celebrates this holiday, you probably spent your Christmas Eve gathered with your loved ones, letting them know just how much you cherish them.
But President Donald Trump decided to spend the night before Christmas boasting about a dubious accomplishment on Twitter: winning the so-called "war on Christmas."
"People are proud to be saying Merry Christmas again," the president said. "I am proud to have led the charge against the assault of our cherished and beautiful phrase. MERRY CHRISTMAS!!!!!"
Trump's Christmas Eve tweet marks the self-proclaimed fulfillment of a promise he made to his base throughout his campaign. At an Iowa rally in October 2015, Trump promised voters in the Hawkeye State that the phrase "Happy Holidays," a more inclusive seasonal greeting at the center of the "war on Christmas," would become a thing of the past.
"If I become president, we're gonna be saying Merry Christmas at every store. ...You can leave happy holidays at the corner," Trump told voters.
For the uninitiated, the "war on Christmas" doesn't refer to an actual war but to a sort of religious boogeyman for some Christian conservatives. According to an expert who spoke to the New York Times, the origins can be traced to a right-wing radio host in 2005 — with a big boost from Fox News:
"[T]he idea of a plot against Christmas gained wide publicity when Fox News promoted a 2005 book by a radio host, John Gibson, that alleged liberal antagonism toward the holiday, according to Dan Cassino, a professor at Fairleigh Dickinson University."
Though most liberals likely don't consider themselves "soldiers" in this culture war, some Christian conservatives have been fighting them in a seemingly annual cable news debate. This includes the president, who, after signing his party's tax reform bill into law earlier in the week, told his base that he had made an amazing stride in the war.
"We can say Merry Christmas again," the president said Thursday.
But it's unclear when Americans ever stopped using the seasonal greeting. Scott Dworkin, a Democratic operative, tweeted a video of Trump's presidential predecessor, Barack Obama, using the phrase no less than 17 times throughout his time in the White House.
And though the president declared himself victorious in the culture battle, one poll gives reason to believe the role of Christianity in the annual winter holiday may actually be on the decline. According to a December 2017 survey released by the Pew Research Center, a 52% majority of Americans don't care whether they're greeted with "Happy Holidays" or "Merry Christmas" this season. And those Americans who prefer to be greeted with "Merry Christmas" fell to 32% in 2017 from 43% in 2005.