Stefano Gabbana rejects gay label in a bizarre new interview. Why? "Because I'm simply a man."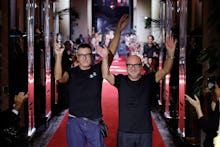 Fashion has had its fill of bad boys throughout the years, including Jean-Paul Gaultier, Marc Jacobs and Shayne Oliver — all rule-breakers in the often strict confines of the form. But few men (or women, for that matter) have been able to achieve that title through their actions off the runway. Then again, few men are as wildly outspoken as Stefano Gabbana, a designer who has had more controversies than runway shows in 2017.
His latest debacle is in a new interview with Italy's Corriere della Sera daily in which the designer, one half of his namesake label Dolce & Gabbana, denounces the idea of being called gay — a title he's worn comfortably for decades — in favor of being identified not with a different sexual orientation, but simply as a man.
"I don't want to be called gay, because I'm simply a man … full stop," he told the paper.
He wasn't done there. "The word 'gay' was invented by those who need to label people, and I don't want to be identified by my sexual choices," he said. "I thought that I could help spread a new culture as a famous person, a culture no longer based on gay rights but on human rights. We are human beings before being gay, heterosexual or bisexual," Gabbana stated.
Gabbana even went so far as to produce (there's a D&G label if you look closely) a T-shirt emblazoned with the phrase "I'm not gay I'm a man" seeming to situate these two ideas as antithetical to one another.
The comments section immediately lit up. "It can be both," one user wrote. "I do understand what he is trying to do by sending a message of equality. But [it] can also be read as 'I'm [ashamed of] being gay.' Labels are good and bad. And labels make us part of who we are."
As he has done in the past, Gabbana was not afraid to fire back at his vocal critics. "Shame!" one commenter wrote hours after the post first appeared on Friday. "But you are stupid," Gabbana responded, in Italian. "Piece of crap," one commenter responded to the shirt. "Face of crap," Gabbana responded early Tuesday morning, clearly still not done waging war.
Then there were his November's comments about sexual harassment, in which the designer, in an interview with Vogue U.K., claimed that sexual harassment was not violence. "It's not new! ... It's true. Everybody knows," he said. "After 20 years you say, 'Ah! He touched my ass!' It's not violence, this. Who doesn't do sex? Who doesn't? It's a trend. Now the trend is sex. But sex is an old story. We are Italian. We came from the Roman Empire. We know very well."
All these comments follow what might be considered his most controversial moment. In 2015, the designer duo told a magazine that they opposes gay adoption and that "the only family is the traditional one." That backlash, which included a non-cheeky #BoycottDolceAndGabbana hashtag led by Elton John as well as admonishment from Madonna, Ricky Martin and other celebs, was enough to earn a rare apology. "I've done some soul searching," Gabbana remarked. "I've talked to Stefano a lot about this. I've realized that my words were inappropriate, and I apologize," he told Vogue in August 2015.
Will the backlash over his most recent controversy force an about-face on the issue? Judging from his response to folks on Instagram, we're going to guess not.