Democrats are set to compete in a historic number of congressional districts in 2018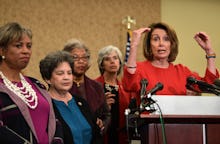 Welcome to Mic's daily read on Donald Trump's America. Want to receive this as a daily email in your inbox? Subscribe here.
Tuesday's dispatch: Democrats' Christmas gift — a ton of candidates
The Democratic Party got a major gift this holiday season — a slew of fresh new congressional candidates with ambitions to take back the House in 2018.
Filings with the Federal Election Commission show that, almost a year out from the 2018 midterm elections, Democrats already have at least one candidate filing to run in all but 20 House districts held by Republicans.
Republicans, on the other hand, do not have any declared candidates in a full 80 congressional districts that are being held by Democratic incumbents.
That stark divide this early in the political cycle portends a major enthusiasm gap ahead of 2018's race. Democrats are already ahead of where they were at the end of 2016, when the party left 28 seats uncontested on Election Day, while Republicans left 25 seats uncontested.
Filing deadlines vary by state, but most extend past March, and some states allow candidates to enter the race as late as July of an election year — meaning Democrats could, in theory, run a candidate in nearly every House district by Election Day.
That doesn't mean that every congressional district will necessarily be competitive. But recent polling suggests that many districts previously considered unwinnable for Democrats could be in play.
A CNN poll released Wednesday found that, on a generic congressional ballot, voters favored a generic Democrat over a generic Republican by 18 percentage points — the highest lead any party has had in 35 years.
Some context: There are 58 seats where Republicans are considered to have an advantage of 12 points or less. Democrats need to win only 24 of those seats in order to take back control of the House.
A lot can happen between now and Election Day, and Democrats will still have to contend with heavily gerrymandered districts that favor Republicans all over the country. But with such strong early support, and a legion of candidates ready to take advantage of the mood, Democrats are in a historically strong position heading into 2018.
Tuesday in Trump's America:
Hatch(et) Job: The editorial board of Utah's largest newspaper, the Salt Lake Tribune, published a blistering Christmas Day editorial calling on Sen. Orrin Hatch (R-Utah) to not seek re-election in 2018. The paper cited everything from Hatch's support for President Donald Trump's controversial decision to shrink to major federal monuments in Utah, to his "utter lack of integrity that rises from his unquenchable thirst for power."
Hatch, the longest-serving Republican senator in U.S. history, has signaled he might not run in 2018, and rumors have swirled about former presidential candidate Mitt Romney running to take his place.
The pope takes a shot at Trump: Pope Francis used his annual Christmas Day address to critique the Trump administration's controversial decision to move the U.S. Embassy in Israel from Tel Aviv to Jerusalem.
"Let us pray that the will to resume dialogue may prevail between the parties and that a negotiated solution can finally be reached, one that would allow the peaceful coexistence of two states within mutually agreed and internationally recognized borders," Francis said Monday of the Israeli-Palestinian conflict.
Putin's biggest challenger defanged: Election officials in Russia have barred Putin's biggest critic, opposition leader Alexei Navalny, from running against Putin in the country's upcoming election over the anti-corruption activist's calls for an election boycott. Navalny called on his supporters to boycott the election, saying the move shows that "Putin is terribly scared and is afraid" of running against him.
Trump defunds U.N. after major vote: The Trump administration announced a major $285 million budget cut for the United Nations following the international body's vote to condemn the administration's Israeli embassy decision. U.N. Ambassador Nikki Haley said she would not let "the generosity of the American people be taken advantage of."
Under the radar:
Small-dollar boom: HuffPost's Daniel Marans explored how Virginia's wave election for Democrats in November was fueled in part by a big last-minute surge in small-dollar donations.
Guatemala moves its embassy in Israel: Guatemala became the first country to follow the U.S.'s lead in moving its embassy in Israel from Tel Aviv to Jerusalem. The move is poised to further inflame tensions in the region.
Today's MicBite:
Police stormed into Dylan's house and arrested him for a protest that he didn't even attend — and he's not the only one.
Correction: Dec. 27, 2017