Republicans' 2018 legislative agenda is rife with political land mines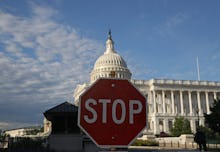 As the afterglow of passing their contentious tax reform bill fades to the rearview, Republicans will return to Washington, D.C., on Jan. 8 greeted by a daunting 2018 legislative agenda rife with potential political strife.
Immediately upon their return from the holiday recess, GOP leaders will have just 11 days to avoid a government shutdown, as the short-term spending bill Congress passed before jetting off for Christmas expires on Jan. 19.
That spending package alone is fraught with trouble, as a number of other programs are also expiring and need long-term fixes.
They include the Children's Health Insurance Program, which provides health coverage to low-income children, and the Deferred Action for Childhood Arrivals program — which allows undocumented immigrants who were brought to the U.S. as minors to stay and work in America.
Both of those programs are top Democratic priorities, and will expire in March unless Congress acts. Democrats may try use those the government funding bill as leverage to try and extract wins in those two areas.
Yet even if Congress addresses government funding, CHIP and DACA in January, the rest of the year will present Republicans with burdensome issues.
For one, House Speaker Paul Ryan (R-Wis.) is pushing President Donald Trump to move on to welfare reform in 2018.
"People want able-bodied people who are on welfare to go to work, they want us to get people out of poverty, into the workforce," Ryan said Wedensday, according to Bloomberg News. "That's good for them, that's good for the economy, that's good for the federal budget."
And the Trump administration seems open to that idea.
"You're going to see this administration move on vigorously to an agenda which will include infrastructure and welfare reform," Vice President Mike Pence said during a surprise visit to Afghanistan to see the troops.
But moving on to welfare reform a risky move. Republicans already have to deal with strong public opinion that the GOP's $1.5 trillion tax reform plan favors the wealthy. Cutting benefits for the poor after giving the wealthy a tax cut would play right into Democrats' hands in the midterm elections, which are already looking daunting for Republicans.
Senate Majority Leader Mitch McConnell — who will preside over a slimmer 51-49 majority after Democratic Senator-elect Doug Jones' win in Alabama — seems to understand that. He told Axios' Mike Allen on Thursday that he "would not expect to see" welfare reform in 2018.
Instead, McConnell — who has presided over a Senate that spent 2017 shutting out Democrats from their legislative agenda — said he wants to see a more bipartisan congress.
"One thing I can say about this year is that it was pretty partisan. There's not much you can do on a partisan basis in the Senate with 52-48 or at 51-49, which would be the number of us for next year," McConnell said at a year-end news conference at the Capitol on Friday. "I don't think most of our Democratic colleagues want to do nothing, and there are areas where I think we can get bipartisan agreement."
Trump and Republicans see infrastructure as a potential area for bipartisan agreement.
"At some point, and for the good of the country, I predict we will start working with the Democrats in a bipartisan fashion," Trump tweeted on Friday. "Infrastructure would be a perfect place to start. After having foolishly spent $7 trillion in the Middle East, it is time to start rebuilding our country!"
But Democrats have little incentive to work with Republicans. Polling shows that more than half of voters disapprove of Trump. And the vast majority of those who disapprove of Trump do so strongly, according to multiple surveys.
If Democrats can keep Trump's approval that way, the midterms could give Democrats a House, and maybe even a Senate, majority.