Mary Fields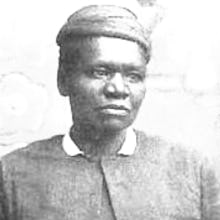 This article is a part of the Black Monuments Project, which imagines a world that celebrates Black heroes in 54 U.S. states and territories.
At 6 feet tall, Mary Fields was one of the most formidable women of the Old West. Fields is best-known for becoming the first black person to work for the Wells Fargo Co. delivering mail.
In 1895 — when she was in her early 60s — she got a job as a mail carrier in Cascade, Montana. To prove she was fit for the work, she was challenged to hitch six horses to a coach, racing against six cowboys, according to one account. She beat them all. Fields drove a mail coach for eight years, earning the name "Stagecoach Mary" for her harrowing trips across Montana through harsh weather and dangerous terrain.
According to the Montana Historical Society, Fields was born into slavery in the early 1830s and there aren't many reports about her early life. Once freed after the Civil War, she worked as a chambermaid on a steamboat named Robert E. Lee. Some accounts say this is where she met Judge Edmund Dunne, who took her on as his household maid.
Dunne's sister, Mother Mary Amadeus, was the superior at the Ursuline Convent in Toledo, Ohio, when Fields began working there in the 1870s, according to the historical society. In 1884, Mother Amadeus left Toledo to live in Montana and work at St. Peter's Mission, near Cascade. When she became ill with pneumonia, Fields came to her rescue as her nurse, the Root reported in 2015. Fields then made the mission her home. She worked there for the next 10 years growing vegetables, tending to chickens, maintaining buildings and doing supply runs through the untamed terrain of the state.
One legendary story is that Fields' stagecoach was once attacked by wolves. According to a 1996 piece in the magazine Wild West, the wolves turned over her cart, but she was able to fight them off and protect the food shipment for the nuns. Another is that she was so beloved that she was "the only woman of reputable character" to receive permission from the mayor of Cascade to drink at the local bar, the Wild West story said.
Despite her great help to the nuns at St. Peter's Mission, "Black Mary" — as she was also called — eventually got dismissed from working at the convent thanks to her cursing, smoking and fighting with men. Later, Fields twice tried to run a restaurant, but both attempts failed (she was said to give out too much free food to those in need).
As a postal worker from 1895 to 1903, Fields reportedly never missed a day of work, no matter what circumstances came her way. She was hailed as a reliable and speedy mail carrier, known for toting guns and smoking cigars. When she retired, Fields opened up a laundry service. She died at 82 years old, according to the Root.
We salute Mary Fields, who walked unbeaten paths in the Old West in service of others, all while defying racial and gender stereotypes every step of the way.