Matthew Ricketts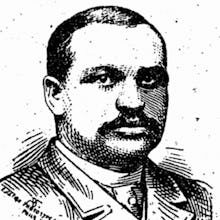 This article is a part of the Black Monuments Project, which imagines a world that celebrates Black heroes in 54 U.S. states and territories.
Matthew Ricketts was Nebraska's first black legislator, who fought tirelessly against segregation and helped pass the state's first civil rights law.
Born in 1858 to two slave parents in New Castle, Kentucky, Ricketts and his family moved to Boonville, Missouri, when the Civil War ended. In Boonville, he attended public school and went on to obtain a degree from Lincoln Institute (now Lincoln University of Missouri). He was a teacher in Missouri for the next three years before moving to Omaha, Nebraska.
Ricketts then attended Omaha Medical College, where he worked as a janitor to pay his tuition. After graduating from medical school in 1884, he opened up a medical office in town. Ricketts was noted as being a "very careful physician, as well as an exceedingly likable young man."
Ricketts was also a powerful orator, which made him a great candidate for Congress. After the failed candidacy of Nebraska's first black candidate, Edwin R. Overall, Ricketts was elected to the Nebraska House of Representatives in 1892 on the Republican ticket. During his two terms, he secured the passage of a major civil rights bill in 1893 that prevented discrimination against Nebraskans and strengthened a law passed in 1885. Ricketts was also instrumental in the enactment of a bill that set an age of consent for marriage in Nebraska, relying on a petition of 500 black women in Omaha to carry it forward.
Ricketts also petitioned the state to establish an all-black fire crew, Omaha's Negro Fire Department Company. He helped secure appointments for black people in city and state government positions during his tenure in office.
He was a member of the Omaha Medical Society, Nebraska State Medical Society and Prince Hal Masons. Ricketts eventually went back to practicing medicine in St. Joseph, Missouri, before he died in 1917.
Ricketts is honored for his trailblazing work in the fight for racial equality, and for ensuring that other black people in Nebraska got a chance to have their voices heard in local and state politics.