David B. Meadows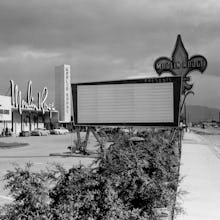 This article is a part of the Black Monuments Project, which imagines a world that celebrates Black heroes in 54 U.S. states and territories.
The Rev. David B. Meadows was a civil rights leader in northern Nevada and is credited with helping to integrate Las Vegas' casinos in the 1950s and 1960s, Nevada magazine reported.
In the mid-20th century, black Americans were essentially relegated to behind-the-scenes jobs at Las Vegas casinos, according to Smithsonian magazine. It was widely known and accepted for blacks to be janitors and cooks, not working in public spaces as dealers, bartenders or servers for the establishments. Even entertainers such as Nat King Cole, Ella Fitzgerald and Louis Armstrong entered through service entry points, Smithsonian reported. Black performers also couldn't stay at the whites-only hotels on the Las Vegas Strip, but instead had to sleep in hotels on the west side of town. Meadows and other civil rights advocates worked tirelessly to change that.
Meadows, who was born in Texas but lived in northern Nevada, was a man of the cloth but also of the people. As the associate pastor of Second Baptist Church in Reno, Meadows knew how to organize and connect with large crowds. He was able to influence people to rally behind desegregation of the Las Vegas Strip because the industry provided many avenues of employment. During the 1950s and '60s, he worked with political leaders and other civil rights activists and was able to bring awareness to the plight of black Nevadans.
With Meadows' passion and the savvy of Charles Kellar — one of only a few black practicing attorneys in Nevada in the 20th century, according to Nevada magazine — the duo drafted civil rights legislation. In March 1960, public officials and civil rights activists reached a pact called the Moulin Rouge Agreement that ordered the desegregation of Las Vegas casinos, the Las Vegas Sun reported.
The peak of Meadows' activism was a march on the state capitol in 1961, where more than 200 black people marched in Carson City. He was also a delegate at the 1964 Democratic National Convention. Meadows also helped found the New Jerusalem Missionary Baptist Church in October 1985. He started the church with the Revs. Onie Cooper, E. M. Howard and W.C. Webb. Meadows died in 1998 at the age of 86.
We salute David B. Meadows for working to secure equal employment opportunities for black people in Nevada.