Bayard Rustin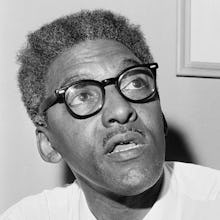 This article is a part of the Black Monuments Project, which imagines a world that celebrates Black heroes in 54 U.S. states and territories.
Bayard Rustin was a civil rights trailblazer who organized the March on Washington for Jobs and Freedom, was an adviser to Dr. Martin Luther King Jr. and fought for gay rights.
Rustin was born on March 17, 1912, and raised in West Chester, Pennsylvania, by a grandmother who was a Quaker and member of the NAACP, according to the Social Welfare History Project from Virginia Commonwealth University Libraries. Rustin attended historically black university Wilberforce University. He also attended Cheyney State Teacher's College, now called Cheyney University, which is also historically black. He decided early in his life to become active in the fight against inequality. NPR reported that for a few years in college, he joined the Young Communist League, which was active in the fight against racism. He was also became a member of the historically black fraternity Omega Psi Phi.
In 1937, Rustin moved to Harlem, New York City. The Social Welfare History Project said he then attended the City College of New York, joined the campaign in support of the Scottsboro Boys, abandoned the Communist Party and eventually went back into Quakerism. A gifted singer, Rustin supported himself in New York as a performer — once even on Broadway alongside Paul Robeson, NPR reported.
Rustin's activist work included challenging segregation on interstate buses by organizing the Freedom Rides. He also served 28 months in prison for refusing to register for the draft, the New York Times reported. Hired by his mentor A.J. Muste, Rustin hosted workshops against segregation and war, according to NPR. In 1957, King, Rustin and other civil rights activists founded the Southern Christian Leadership Conference.
Rustin's sexual orientation often served as ammunition for detractors to the fight for equality. In 1953, he was arrested after being found having sex with two men in a parked car in Pasadena, California. The incident, for which he served a 60-day jail sentence, was used against him at times, but it did not stop his fight for equal rights for black Americans and gay people. In an interview published in the Village Voice, he reportedly said he was gay. "The fact of the matter is, it was already known, it was nothing to hide," he said, according to the New York Times. "You can't hurt the movement unless you have something to reveal."
NPR reported that Rustin had less than two months to organize the March on Washington. He was able to galvanize the support and rally activists to make the historic event happen on Aug. 28, 1963. John Lewis, who is also honored as part of the Black Monuments Project, is the only speaker from that day who is still alive.
For the next two decades, Rustin continued his political work and started doing more advocacy for gay rights. A year before he died, he gave a speech at the University of Pennsylvania where he said gay people must "recognize that we cannot fight for the rights of gays unless we are ready to fight for a new mood in the United States, unless we are ready to fight for a radicalization of this society," BuzzFeed reported.
He died in 1987, at the age of 75, leaving behind his partner, Walter Naegle. In 2013, Rustin was posthumously awarded the Presidential Medal of Freedom by President Barack Obama, which Naegle accepted on Rustin's behalf.
Rustin fought tirelessly for freedom and equality for all. What better way to honor him than with a bronze figure in the City of Brotherly Love — perhaps near the Liberty Bell?