Sister Rosetta Tharpe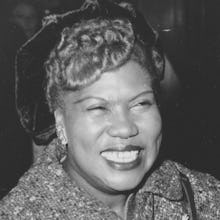 This article is a part of the Black Monuments Project, which imagines a world that celebrates Black heroes in 54 U.S. states and territories.
Before Little Richard, Johnny Cash or Elvis Presley, Sister Rosetta Tharpe paved the way in music for generations of artists to come. While she may not have the same level of name recognition as those aforementioned musicians, Tharpe is one of the most influential artists of the 20th century.
Born Sister Rosetta Nubin in Cotton Plant, Arkansas, in 1915, the prodigy learned how to play the guitar by age 4, Essence reported. By age 6, she was traveling with her mother — a singer, musician and preacher for the Church of God in Christ — in an evangelical act.
Tharpe crafted a sound that blended gospel, rock and blues. Her first big hit was in 1938 with "Rock Me," an uptempo song about love that fused elements of rock and gospel. As noted by the Rock & Roll Hall of Fame, Tharpe's 1945 song "Strange Things Happening Every Day" is recognized as the first gospel tune to have an impact on the "race" chart (which was later named the "R&B" chart), making the track an early touchstone for what would become rock 'n' roll.
Tharpe lived in Chicago and then New York City. She played alongside acts like Duke Ellington and Dixie Hummingbirds. She traveled the world breaking down not just stereotypes in music but also societal norms as a queer woman.
Throughout her life, Tharpe was married to three different men but also had an "open secret" relationship with singer Marie Knight, Rolling Stone reported. The pair toured together in the late 1940s and released the gospel duets "Up Above My Head" and "Didn't It Rain," according to the Los Angeles Times. Her third marriage — after parting ways with Knight — drew its own share of attention, though; when she married her manager, Russell Morrison, the ceremony took place in front of more than 20,000 people at Griffith Stadium in Washington, D.C.
Tharpe moved to England in the 1960s, where she continued to play, before dying of a stroke in Philadelphia in 1973.
Decades after her death, Tharpe continues to earn posthumous honors. In July 1998, the United States Postal Service recognized her contributions to culture with a 32-cent commemorative stamp, Essence reported. Much more recently, the Rock & Roll Hall of Fame announced in December that it will induct Tharpe in 2018, highlighting her legacy as an early influencer. "She is the founding mother who gave rock's founding fathers the idea," the hall of fame's website read.
Since she was such a trailblazer in music — and since she laid the groundwork for greats like Elvis Presley, who's memorialized in Memphis — it's only right to honor Sister Rosetta Tharpe with a monument of her own in Tennessee, a state with a rich rock 'n' roll history. The King would be lucky to have his statue alongside hers.