Trump has an ambitious 2018 legislative agenda that may never work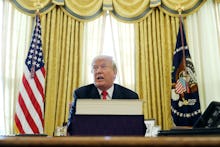 Welcome to Mic's daily read on Donald Trump's America. Want to receive this as a daily email in your inbox? Subscribe here.
Wednesday's dispatch: Trump has big goals for 2018 and no way to get them done
In the quiet week before the new year, the Trump administration is laying out some big bipartisan legislative goals for the coming year.
On Tuesday, President Donald Trump tweeted he hopes Democrats and Republicans will come together to fix the health care system after the Republican tax bill sabotaged the law. Meanwhile, other members of the administration, including Vice President Mike Pence, are touting big plans for a bipartisan infrastructure plan and a bill to reform the U.S. welfare state.
Taken together, you may think this makes up pieces of Trump's legislative agenda for 2018. It's also a pipedream, as all three objectives remain considerably out of reach for a divided Congress and an erratic president.
For starters, election years are always tough times to pass major legislation. Lawmakers engaged in tough re-election campaigns rarely take risks by throwing their support behind big pieces of sweeping legislation that could damage their standing with voters in their districts. And 2018 is already shaping up to be a tough election year for a historic number of Republicans in the House majority, whose votes will be crucial to passing anything as big as an infrastructure bill, or health care and welfare reform.
The Obama administration did manage to pass two major pieces of legislation in the early months of its second year — the Affordable Care Act and the Dodd-Frank Consumer Protection Act — but only after spending the better part of the previous year working on both bills. Republicans will be starting from scratch on all of their legislative priorities, having spent 2017 focused on multiple failed ACA repeal bills and their unpopular tax bill.
They will also have considerably less legislative leeway than the previous administration. With the recent election of Doug Jones in Alabama, Senate Republicans have a slim one-vote majority in the Senate. Some context: The Obama administration had a 60-vote, filibuster-proof majority, which dropped to 59 after the death of Ted Kennedy, nearly derailing both of its major legislative priorities.
Infrastructure, health care changes and welfare reform will all require major substantive changes in the law, so Republicans likely won't be able to rely on the reconciliation process they used to pass tax reform, meaning all three votes will require 60 votes in the Senate, instead of 50.
And before Republicans can even begin to think about their new agenda, they'll have to clean up the mess they left from the last legislative session. Within the first few months of 2018, the GOP will face impending deadlines for fixing the both the Children's Health Insurance Program and the Deferred Action for Childhood Arrivals program, both of which they failed to address by the end of 2017.
In short: 2018 is poised to be another year of rolling legislative crises, where big ambitious legislation takes a back seat.
Wednesday in Trump's America:
Businessman questioned in Trump-Russia probe: Lawmakers have questioned Irakly Kaveladze, a Georgia-born American businessman who attended the infamous June 2016 meeting at Trump Tower, in connection with the Russian probe. Congressional investigators knew that Kaveladze was at the Trump Tower meeting where Donald Trump Jr. was promised damaging information on Hillary Clinton from a Russian attorney, but became more interested in Kaveladze after learning he had attended a private meeting with Trump in 2013 to celebrate the deal to hold Trump's Miss Universe pageant in Russia.
Administration rolls back fines for elder-care abuse: In a big handout to the nursing home industry, the Trump administration is reportedly rolling back fines for nursing homes that don't comply with a certain standard of care for the nation's elderly. The New York Times reported that the rollback has slowly been implemented over the course of the year.
Major U.S. cities sue Pentagon over gun laws: The cities of New York, Philadelphia and San Francisco are suing the Department of Defense over its failure to report service member crimes to the national background check system. The move comes after Texas church shooter and service member Devin Patrick Kelley slipped through the background check system despite having a domestic assault conviction that would make him ineligible to purchase a firearm.
Democracy by lottery: Democrat Shelly Simonds is suing to keep her Virginia House of Delegates race from being decided by pulling names out of a can. Simonds had won the seat by a margin of one vote, until one contested ballot was thrown out, making a the race a tie. Now the State Board of Elections is trying to decide the race by pulling names out of a film canister.
Let it snow: Cities across the country are dealing with record-low temperatures for this time of year and heavy snowfall. The city of Erie, Pennsylvania, broke the state's two-day snowfall record after being buried in more than 5 feet of snow.
Under the radar:
Trump rolls back union rights in his first year: The Huffington Post's Dave Jamieson outlined the many underappreciated ways that the Trump administration has managed to significantly roll back union and labor rights in his first year in office.
Governing in secret: A new report from Politico shines a light on the Trump administration's evasive and possibly illegal practice of not reporting the public schedules of where Trump Cabinet members are and who they are meeting with.
Today's MicBite:
President Barack Obama dressed up as Santa to surprise kids for Christmas.