14 looks that defined the year 2017, for better or worse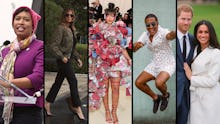 What would you put in 2017's time capsule? Think about the things that defined this year for you. Maybe a jar of your tears? Your Klonopin prescription? A Fenty Beauty foundation? A copy of The Handmaid's Tale?
All of those could apply, yes. But don't forget to consider the outfits and ensembles that, looking back years from now, we will gaze upon and think: Ah, yes, 2017.
For us, this year wasn't great. But hey, at least we got a few year-defining fashion moments that made our hearts sing and fill with hope, if even for a few fleeting moments, and some that made us cringe (hey, it happens.)
Here are 14 looks that we feel defined this year.
Kellyanne Conway on Inauguration Day
2017 was a year of full of foolishness and unabashed greed, and what outfit, we ask you, encapsulated that better than Kellyanne Conway's outlandish $3,600 Gucci coat she wore on Inauguration Day?
We mean, really. The coat had cat buttons. According to Time, she herself referred to the red, white and blue coat as "Trump Revolutionary wear." With that red bucket hat though, she came in looking like if Paddington Bear lived through the Revolutionary War.
Melania Trump's Jackie O.-inspired inauguration dress
Melania Trump, as first lady, had an inevitable spotlight on everything she wore this year. So fittingly, her first outfit as first lady was one of her most notable fashion moments. On Inauguration Day, Trump wore a powder blue cashmere dress and jacket by Ralph Lauren that was extremely reminiscent of the blue outfit Jackie Kennedy wore to her husband's Inauguration in 1961.
It felt retro-inspired, with that collar and gloves, which pretty much defined Trump's style throughout the year, which leaned on 1950s and '60s silhouettes and shapes heavily.
The pussy hat
There is perhaps no other garment that you can look at from this year and be transported, so very quickly, to a particular day.
That's what happens when we see the pink pussy hats now, which were created to remind people of Trump's "Grab them by the pussy" tape and worn by millions of women and supporters of women at women's marches across the world, which were held to protest Trump's inauguration.
In every picture from that day, you see dollops or even a sea of bright pink. It's a sign of unity — and protest — that still lives on today.
Rihanna at the 2017 Met Gala
Now let's step away from politics for a minute and come together for our one true leader: Rihanna.
The 2017 Met Gala, meant to celebrate Rei Kawakubo's designs at Comme des Garçons, really turned out to be a celebration of Rihanna's continuing rule of the Met Gala red carpet.
She showed up on-theme, decked out in a Comme des Garçons design that looked like she was enveloped in paper, and glowing. No one — and we mean no one — even came close to knocking her from her best-dressed pedestal.
This is how you do a Met Gala.
The RompHim
Not all the outfits that epitomized 2017 were that dramatic. One in particular was equal parts silly and divisive. One was, in our opinion, the RompHim, that masculinized version of a romper that set the internet ablaze in March.
It had its haters and its lovers, yet found success. Mic has kept a close eye on the RompHim and not only has it introduced new patterns and extended sizing, but it's launching the RompSuit, which is actually a jumpsuit, now too.
A lot of internet hype goes a long way, we guess.
Trump's red ties
Just as inescapable in 2016 as they were in 2017, perhaps it's those extremely long and glaringly red ties that Donald Trump loves to wear that exemplify his most definitive fashion moment this year.
We learned this year that he loves them so much that he resorts to using clear tape to keep the other end of the tie from flying about.
We're not expecting these ties to go anywhere in 2018.
Joy Villa's Make America Great Again dress
And while we're on the topic of Donald Trump, never forget when singer Joy Villa showed up to the 2017 Grammys with her own spin on the Make America Great Again hat.
For the red carpet, she arrived in a white cloak and then once she was in front of the sea of cameras, she whipped it off to reveal a crystal-encrusted dress with Make America Great Again on the front and "TRUMP" on the back.
Melania's hurricane heels
Much like her passion for pussybow blouses, Trump's passion for wearing high heels to nearly every single event caused massive uproar and confusion this year when she decided to wear sky-high stilettos on her way to meeting with victims of Hurricane Harvey in Texas.
Stepping out of the White House in a bomber jacket and black patent stilettos, people were infuriated. She did end up changing on the plane into more sensible sneakers, but the image remained: Trump teetering in an outfit that made it known she would not be walking through any mud or high water.
She stepped out of the White House in heels prior to visiting hurricane victims in Texas many times after this too.
Bey's pregnancy and birth announcement outfits
Beyoncé gets two of the most year-defining looks this year, because we just can't decide which one is more legendary.
In February, Bey announced her pregnancy (with twins!) while wearing a bra from Agent Provocateur, blue silk charmeuse panties and a green veil, kneeling in front of a wall of flowers.
Seven months later, Bey presented us those twins wearing underwear, a blue veil and a stunning floral coat from Palomo Spain, which is a genderless brand that puts on fabulous runway shows with male models in dresses.
Hillary Clinton's black leather jacket
You knew a little Hillary content was coming, didn't you? Yes, of course we have to make mention of Hillary Clinton's style transformation this year, from hopeful president to a woman who can now dress how she really wants, without causing an international crisis.
We have to admit we loved Clinton's style this year even more than last, with the black leather jacket she wore in March to the Professional Businesswomen of California conference being the most standout piece.
Imagine the uproar this would have caused had she worn it on the campaign trail.
This is how a liberated political woman should dress.
Wonder Woman's armor
And this, we suppose, is how a female superhero should dress. Wonder Woman was one of the most popular movies this year, racking up more than $820 million at the box office worldwide.
A sign of strength, power, justice and confidence, her armor/costume remained a visual reminder that women have long deserved to see powerful women, just as much as men deserve to see powerful men, onscreen.
The blue ACLU ribbon
Speaking of justice, the blue ribbon of the American Civil Liberties Union had quite the year.
Worn by stars at the 2017 Oscars and by the attendees of New York Fashion Week in September, the ribbon stood as a reminder of the work that organization does in the face of a president fond of trying to impede human rights.
The ribbon, in our opinion, has never looked better.
Meghan Markle's white coat
Let's close out on a few very high notes, shall we? 2017, in all its horror, did give us a few women we now can't help but constantly admire. One of those women is Meghan Markle, who had one of the best 2017s out of everyone.
Markle went from Prince Harry's girlfriend to his fiance this year, with an engagement announcement that came with a white coat we now consider iconic.
The coat itself was from the relatively unknown Canadian brand Line the Label, and we predict 2018 to be the year when everyone, everywhere will outright obsess about what she's wearing.
With a sense of style reminiscent of Michelle Obama's in its embrace of smaller labels and designers with causes and hidden meanings, we really cannot wait for that wedding.
Cardi B's Cinderella dress
Actually, no, wait. Cardi B had the best 2017.
This year was Cardi's Cinderella year, going from an Instagram star to a hip-hop phenom with her No. 1 hit "Bodak Yellow." So it's only right that she got a dress that matched her year.
To the Diamond Ball in September, which was hosted by Rihanna, Cardi B stepped out in a pale blue dress by Christian Siriano that made our hearts sing. Elegant and chic but still a little Cardi (take a look at the nails), she was obviously the woman to root for.
Now we just hope our 2018 is even a little, tiny, itty-bitty bit like Cardi's.