Rihanna puts out a call to "#EndGunViolence" after the death of her cousin in Barbados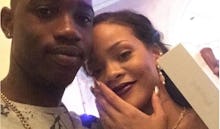 After her 21-year old cousin was killed in Barbados the day after Christmas, Rihanna is calling for an end to gun violence.
In a photo collage posted to Instagram, the pop singer honored 21-year-old Tavon Kaiseen Alleyne, who Barbados Today reported was fatally shot while walking in Eden Lodge, St Michael, around 7 p.m. Tuesday.
"RIP cousin," Rihanna, who was born in Barbados, captioned the images. "Can't believe it was just last night that I held you in my arms! Never thought that would be the last time I felt the warmth in your body!!! Love you always man! #EndGunViolence."
According to the report, Alleyne was cutting through a track near his home when he was approached and shot multiple times by a lone man who fled the scene. Alleyne was rushed to Queen Elizabeth Hospital after the shooting, where he later died from his injuries.
Gun violence has been on the rise in Barbados over the past year, prompting Attorney General and Minister of Home Affairs Adriel Brathwaite to issue a statement in April assuring island residents that government action was being taken to combat crime.
"What I can say to you is that you would notice that there is an increase in the number of firearms being seized, for example ... You are probably seeing more police presence on the road at nights in terms of when we are aware of certain events taking place," Brathwaite said. "There are multiple things that we have to do."
In her tribute, Rihanna tagged the Instagram handle Merka_95, which seemingly belonged to Alleyne. That account contains multiple photos of the user posing with Rihanna, including one where he refers to the singer as "big cousin."
"Every day we are happy to have you in our lives. Happy birthday cousin, we really love you. Your presence in my life is a source of joy and happiness. To my favorite cousin, may all your dreams and wishes come true," reads a caption written Feb. 20, which is Rihanna's birthday.