The biggest style stories of 2017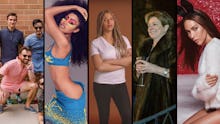 For all the horror, agony and anxiety this year brought us, you have to admit that it was also a fire year for extremely good and interesting style stories.
Between political figures constantly injecting themselves into fashion commentary to models making history, we had a whole lot to cover. Here are some of our favorite) Mic style stories of the year:
January
Donald Trump and L.L. Bean vs. everybody
Before he was even president, Donald Trump was injecting himself into our everyday style content. With a single tweet, he encouraged people to buy L.L. Bean because the founder's granddaughter is a Trump supporter.
It split the internet, of course, with people immediately following Trump's instructions or announcing that they're boycotting the brand.
Hanne Gaby Odiele comes out.
Also in January, model Hanne Gaby Odiele, who had walked in shows for Versace and Moschino, revealed that she is intersex. In an interview with Mic, she talked about why exactly she chose to come out now.
"I have reached a point in my life where I feel ready to share this important part of who I am," Odiele said. "It is time for intersex people to come out of the shadows, claim our status, let go of shame and speak out against the unnecessary and harmful surgeries many of us were subjected to as children. It's important for me to speak out now because it's way past time these human rights violations are brought to light."
February
Ivanka's clothes are ugly as hell.
By February, stores couldn't stop dropping Ivanka Trump's clothing brand, with Nordstrom, Neiman Marcus and even Burlington Coat Factor (ouch) all dropping the brand. But rather than blame this all on Trump's father, we thought it had more to do with the fact that Trump's clothes are atrocious. Judge for yourself.
Meet the woman leading the #GrabYourWallet movement.
Other than the fact that her clothes are atrocious, Ivanka Trump's fashion brand also had to reckon with a woman named Shannon Coulter, who was leading the fight — coined #GrabYourWallet — that encouraged as many people as possible to boycott brands that supported Trump and his family's fashion lines.
March
Alicia Keys doesn't care what Adam Levine thinks about her makeup.
Here's one of the more empowering stories from this year. In an interview with Howard Stern, Adam Levine recounted a time when he teased Alicia Keys for wearing makeup, even though she notoriously tries to not. Her response, according to Levine?
"I do what the fuck I want." 
Kendrick Lamar loves stretch marks.
Also in March, Kendrick Lamar dropped the video for his single "Humble," which included the line: "I'm so fuckin' sick and tired of the Photoshop/ Show me somethin' natural like afro on Richard Pryor/ Show me somethin' natural like ass with some stretch marks."
To match that final verse, Lamar then showed some stretch marks, and subsequently thrilled women on the internet.
April
Ivanka Trump's fabulous neighbor
In April, a woman named Dianne Bruce, who was photographed smiling broadly while watching hundreds of LGBTQ climate activists protest Ivanka Trump and Jared Kushner, who happen to be her neighbors, became a style icon.
With that fur coat and that wine glass, Bruce was all of us.
A clapback queen
An equally heartwarming story came the very next day, when 19-year-old college student Mimi Mbah responded to a Twitter user who commented on photos of her with "[If] she was lighter, she'd be fire" with an utterly iconic: "No thanks. I wouldn't trade my skin color for the world! Still [fire] tho."
Woman vs. fat shaming
Also in April, blogger Callie Thorpe set the record straight on Twitter about the fat shaming she faces, and soon went viral herself.
"I'm going to say something I didn't think I ever would," Thorpe wrote first. "I am unhealthy. But that does not make me less human, less deserving of respect." 
Then she highlighted the double standard she's noticed: "I'd like to take a bet that you too are unhealthy, perhaps you drink too much, smoke, sunbathe with no sunscreen, get too little sleep," she wrote. "That also makes you unhealthy. But because my body 'looks unhealthy' I'm the one that is mocked, bullied, made an example of." 
May
Rihanna ruling the Met Gala
It was inevitable that Rihanna would look great at the Met Gala, but nonetheless we were not prepared for this.
The RompHim
If you've been on the internet for more than one hour this year, you probably know about this. So feel free to revisit.
Melania's pussy bow makes a comeback.
In May, Melania Trump's love of pussy bow blouses was made apparent again. Although much fuss has been made from her wearing these blouses, mostly because her husband was famously quoted saying the horrifying words "Grab them by the pussy," Trump just kept at it.
Demi Lovato's faux dreadlocks
Demi Lovato appeared in a music video for the song "No Promises" with her hair twisted in a way that made people think she was trying to rock dreadlocks. Her apology for this, however, fell short.
Tess Holiday on a body-shaming Snow White trailer
Tess Holiday took a trailer for a Snow White reboot titled Red Shoes and the 7 Dwarfs to task after seeing how it was trying to conflate being fat to being ugly.
June
Wonder Woman's thigh jiggle
With the release and massive success of Wonder Woman, plenty of people were super amped. But one Tumblr user pointed out just how awesome it felt to see Wonder Woman's thighs jiggle up on the big screen. So many people agreed the post went viral.
Amber Rose is all here for pubic hair.
After posting a picture of her own pubic hair, Amber Rose announced that she wants everyone to love their pubic hair. Just thought you should know.
Kim Kardashian West accused of blackface.
In June, Kim Kardashian West was faced with accusations that she was purposefully darkening her skin in images meant to sell her new makeup line. Some said it was blackface, technically.
Fury over a Ken doll's man bun
All Mattel was trying to do was make the collection of Barbie's beau Ken more inclusive, but a man bun was just too far, apparently.
An NYC Pride style appreciation
We know you wanna see these pictures again.
Serena Williams nude on Vanity Fair
In an important moment for the media showing women's bodies as they truly are, Serena Williams showed off her baby bump with a nearly nude cover of Vanity Fair.
Kendall and Kylie vs. Tupac and Biggie
This is a showdown you could have never predicted. Late in June, Kendall and Kylie Jenner started a legal battle between themselves and the families of Tupac Shakur and Biggie Smalls after superimposing images of themselves over images of the rappers on some of their T-shirts.
A body-positive changing room moment
Also in June, model Sonny Turner went viral after going on a rant about the horrors of shopping for swimsuits when you are curvier.
"I am wearing the largest size from one of the most popular high street stores [that] sells in bikinis which is 12-14," she began the post, with pictures of an ill-fitting swimsuit to match. "High street store bikinis do not cater for women of my body type. Majority of online stores don't either. No one gets it, so for any upcoming designers, I got [some] tips for you."
July
An all-black take on the Sports Illustrated swimsuit issue
Since the Sports Illustrated swimsuit issue continues to be super white, with just two black cover stars ever, these sorority girls decided to make their own swimsuit issue, and it looked fabulous.
August
The "curvy wife" guy
In August, a man wrote a love letter to his — and we quote — "curvy wife." While a debate raged on as to whether the letter was sweet or kinda gross, people uncovered racist, transphobic comments from his past. Then he had to apologize.
Melania Trump's hurricane heels
This was just one of the fashion controversies Melania Trump stirred up in 2017. On her way to see the relief efforts going on in Texas after Hurricane Harvey, Trump emerged in sky-high stilettos, infuriating and confusing many.
September
L'Oréal Paris U.K. fires Munroe Bergdorf
In late August, L'Oréal Paris U.K. made history by casting its first out transgender woman as a spokesmodel: Munroe Bergdorf. Days later, after comments she made against white supremacy surfaced, the beauty company fired her.
Tiffany Trump's unrequited love affair with NYFW
For years, Tiffany Trump has tried to woo the fashion crowd at New York Fashion Week. It hasn't worked out quite as well as she's probably hoped.
Teddy Quinlivan comes out
In September, model Teddy Quinlivan, who has walked in basically every major fashion show, revealed that she is transgender, with had the industry quickly racing to support her.
October
Leyna Bloom makes history in Vogue India
Leyna Bloom, a superstar model, made history in October by becoming the first out transgender model of color to appear in Vogue India.
"All I can say is, 'Wow, my name will be forever be affiliated with Vogue —that's iconic,'" Bloom told Mic at the time. "And history has really been made! It's really a dream come true. I just hope I can keep working with this brand and other brands like Vogue."
The first out transgender Playboy Playmate
Model Ines Rau also made history in October by becoming the first out transgender Playboy Playmate, appearing in the magazine's November issue. There was backlash against this decision, but Playboy rose above all the hate.
Anna Wintour hates Donald Trump.
Anna Wintour told James Corden that she never wants to invite Donald Trump to her beloved Met Gala again. It was great.
November
A makeup blogger in hot water
All blogger @GolgiKnowsBest wanted to do was recreate a makeup look they saw on one of their favorite drag queens. Instead they got criticized by people who thought they were trying to mimic people with vitiligo.
The fall at the Victoria's Secret Fashion Show
Model Ming Xi fell during one filming of the Victoria's Secret Fashion Show. But rather than edit that part out, the company decided to air the footage of not only Xi falling, but crying afterwards too. Some, including Chrissy Teigen, found that extremely cruel.
Models singing a racial slur backstage at the Victoria's Secret Fashion Show
After the Victoria's Secret Fashion Show aired, footage leaked from backstage at the show that showed models singing along to the hit song "Bodak Yellow," including a line that includes a racial slur. Outrage ensued.
December
Lewis Hamilton shames his nephew for wearing a pink dress.
Lewis Hamilton, a Formula One racer, thought that shaming his nephew for wearing a dress on social media wasn't a terrible idea. He was wrong, and later apologized.
And there you have it, 2017, a year in style we won't soon forget (despite maybe, at times, wanting to).