This New Year's, let's ditch the weight-loss resolutions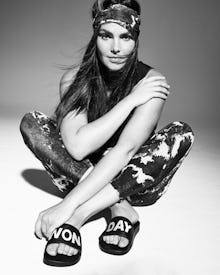 Here we go again. It's a new year, and according to ad campaigns, I guess you're supposed to be a "new you." But what does that look like exactly? Is that being smaller in size?
If you're my mom, that means finally trying that cucumber-lemon water detox thing you keep posting on Facebook that proclaims weight loss in two weeks. Or perhaps it's a very expensive gym membership because forced payment holds us more accountable, right? Whatever it is you do differently in January I can bet it's fast, like ripping off a Band-Aid, and by February, it's over.
There are proven statistics floating around saying 80% of resolutions fail by then, so I swear I'm not being righteous here. And I've also been a part of that calculation myself. Every. Damn. Year. However, there was this one resolution, the one that happened to actually change my life. And I can tell you this, it had nothing do with subtracting a dress size.
Two years ago, at this very time, I sat in a cafe in Spain drinking margaritas with my husband and plotting the year ahead. In the midst of a laundry list of career and image goals, he said to me "I dare you to run a half marathon."
Talk about a buzzkill.
I thought for sure this was the most ludicrous thing I had ever heard being the complacent, nonathlete that I was. I laughed it off immediately. But he pressed on and pleaded his case. He believed that if I did this, like actually did this, all the other expectations and plans I have for my life would come to fruition, but this would likely need to be the first step to get there.
There was something here that intrigued me, confused me, stuck with me and stung even. Me, Candice Huffine, model, world traveler, exhausted, stressed-out, irritable, procrastinating human knew, deep down through the laughter, that this could be the one thing that got me out of my own way.
I flashed back to every year before that I made some wild resolution and fast forwarded through the minimal effort I put into any of them. Technically, I should be a master-guitar-playing, DJ, shark-fin-saving, six-pack-ab-having, vlogger who was on cloud nine. But I wasn't any of those things because I never stuck to anything I planned. You know the drill.
But this one…oh, this dare…it came at just the right time. Without hesitation I said yes and from there made my intention known and set the wheels in motion. I could take you through the months that I prepared for said race — the early rising, constant pain, freezing temp runs outside — or what I felt crossing that finish line, but that's not why I'm here. This isn't a plea to get you to run.
I'm just a girl, writing in front of some other girls (and maybe guys), asking them to reconstruct their resolutions.
Because it took me a lifetime and a few hundred miles on foot to have an aha moment and realize that your goals have a better chance of succeeding when not centered around weight loss.
Here I am a few years and marathons later, maybe a size smaller, but who knows, and more importantly who cares? That's not why I ever set out to run. The moment I laced up and hit that pavement my world opened up. My mind came clearer. My heart more convicted and my body unstoppable. I thought I would simply learn to cover distance on foot, but instead I got to know the real me better than I ever imagined.
I think of my husband's seemingly silly prophecy that what I wanted in my life would come through running and see that he was right. What I wanted and could never admit was true confidence and comfortability in myself. I needed this life-altering goal to actually challenge me and push me past my masked self doubt. So it came in the form of running, who knew?
I can tell you one thing: My newfound outlook on what I am capable of (see: everything) would have never presented itself if my one resolution was just to dwindle some inches from my thighs. In the same way we have a choice in how we speak to ourselves, we have the same right to set ourselves up for incredible, shocking, imperative success and unlock the "new" us in the new year — only this time from the inside out.
I realize now that in the same way we have a choice in how we speak to ourselves, we have the same right to set ourselves up for incredible, shocking, imperative success and unlock the "new" us in the new year, but this time from the inside out. I wish you the kind of year you never forget, full of the good stuff that keeps you remembering exactly where you were when it came into your life and changed everything.
Set a goal that makes you laugh, then crush it, and never stop smiling. I dare you.