Kwanzaa Crawl unites young black people in support of black-owned bars in New York City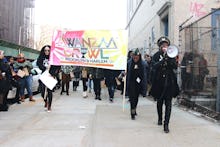 On the first day of Kwanzaa, I joined more than a thousand revelers for the second annual Kwanzaa Crawl in New York City. On a chilly Tuesday afternoon, participants made their way to 25 black-owned bars in Brooklyn and Harlem for an occasion symbolizing economic empowerment, unity and the celebration of black culture within New York City.
We wore T-shirts and hoodies from historically black colleges and universities, placed unapologetically black pins on our lapels and rocked ankara wraps on our heads. We milly rocked, did the electric slide, and whined to soca, from 3 p.m. until late in the evening. While walking through the streets of Brooklyn with my crawl team, I felt a sense of belonging in a city that increasingly feels less inclusive for black people.
As a native of Brooklyn, New York, it's been disheartening to see communities such as Bedford-Stuyvesant and Crown Heights become gentrified at the cost of losing black and brown businesses that help define the culture the borough is known for. New York City lost 31.4% of its black-owned businesses between 2007 and 2012, according to the U.S. Census Bureau.
It's happening in other cities, too. For instance, I sulked as I read the Root's Christmas Eve Twitter thread calling out racism and the shuttering of black businesses on historically black U Street in Washington, D.C. The city's black-owned businesses have only increased 1% in five years. Meanwhile, Detroit was not far behind New York in losing 21% of its black businesses in the same time.
Attending the Kwanzaa Crawl was a must for me this year. The event comes at a critical moment in preserving safe spaces for black people to party, drink and dine without worrying about racial discrimination within New York City. New businesses have clashed with black and brown residents this year. There were boycotts against a Crown Heights eatery that mocked violence in black communities and of a Bedford-Stuyvesant bar that refused to give black children candy on Halloween. Yes, it is important to call out businesses that do not respect their black neighbors. But Kwanzaa Crawl reminded me that it is also necessary to support the black-owned businesses who respect black dollars, too.
The event, which is held annually on the first day of Kwanzaa, is the brainchild of 30-year-old Brooklyn native Kerry Coddett. It's a project born of her grassroots organization Operation Mobilize, which provides actionable ways for everyday people to make a difference in their community.
"One of the important parts of Kwanzaa Crawl is facilitating economic empowerment," Coddett said. "A lot of these businesses are small businesses. The crawl is about providing supplemental income so these businesses can keep their doors and their lights on for another day. It's also another way for these businesses to be introduced to people who live in the community and did not know about them."
The bar crawl concept brings a 21st century twist to the celebration of Kwanzaa and targets a younger generation that is looking to celebrate and invest in their communities. A portion of Kwanzaa Crawl's proceeds will benefit two local groups: Bronx-based BLK Projek, an organization providing food justice and economic development for underserved women and children, and Barbershop Books, which develops kid-friendly reading spaces in barber shops nationally to encourage literacy among black boys.
Operation Mobilize also called on the seven principles of Kwanzaa to steer the meaning of the event. Kwanzaa Crawl especially embodies the principle Ujamaa, which means cooperative economics. Ujamaa is all about coming together "to build and maintain our own stores, shops and other businesses and to profit from them together," according to the official Kwanzaa website.
"We chose to do Kwanzaa Crawl because Kwanzaa is not something that a lot of people I know even celebrate and I think that we're all trying to be more conscious and part of that means re-evaluating things that we dismissed [before]," Cordett said. "I remember being very dismissive of the idea when I was younger but when I actually did the research and figured out what Kwanzaa was about, I think it is something we should and could all get behind."
Kwanzaa is an African-American and pan-African holiday created in 1966 by Dr. Maulana Karenga, chair of the Africana Studies department at California State University, Long Beach. The weeklong celebration lasts Dec. 26 to Jan. 1. On each day of the holiday, participants acknowledge the Nguzo Saba, the seven principles which a person, family and community should reflect on and commit to. The first day of Kwanzaa calls on umoja, which means unity. At Kwanzaa Crawl, unity is a core part of what makes the event special.
When purchasing a ticket to Kwanzaa Crawl, I was prompted to join one of 26 teams in Brooklyn or one of the eight teams in Harlem. On game day, I arrived at the check-in location at St. Francis School de Sales for the Deaf, and was assigned to team one with Cordett as our leader. A DJ was spinning records while volunteers distributed wristbands and Kwanzaa cups in the school auditorium. There was also a brief Kwanzaa ceremony at the beginning of the event, where candles were lit on a kinara to acknowledge each principle.
Each Kwanzaa Crawl team was given a unique route of four bars for the duration of the event. When it was showtime, our group leader carried a blow horn and led our team to each venue. Occasionally, we ran into other teams while traveling between each bar and chanted in unity to let our presence be known to the other participants. At each of the locations, there were DJs and special Kwanzaa drinks menus.
For the first stop of the crawl, we went to Tilly's in Bedford-Stuyvesant. At my third stop, at Eve's Lounge in Prospect Heights, I spoke to Davonte Green, 28, from Inglewood, California, who said the event should also take place in other parts of the country.
"It would be great to have this in L.A.," said Green, who has attended traditional Kwanzaa celebrations back home. He said the Kwanzaa Crawl would need to be adapted to fit Los Angeles, since it's a driving city. But the concept is definitely something he'd like to take back to the City of Angels.
We also visited Tin Kettle and Dean Cafe Bar in Prospect Heights. Another participant, Shadae Thelwell, 27, from Queens, New York, said this was the first time she has celebrated Kwanzaa. "I love the idea," Thelwell said. She is still uncertain about celebrating Kwanzaa in a traditional way, but appreciates what the event represents. "I feel we should all do this more often. Traditionally speaking, it does not make me want to celebrate, but I do believe Kwanzaa Crawl makes us black people stick more together."
Luckily, Cordett is also envisioning an expansion of the unifying nature of Kwanzaa Crawl beyond New York City.
"The goal is for it to be a nationwide event where every Dec. 26, black and brown people are out in the streets wearing whatever makes them feel unapologetically black and brown, singing black songs while we carol from bar to bar."