With few legislative victories, Donald Trump signed 55 executive orders in 2017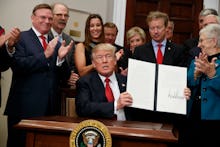 President Donald Trump's first year in office is coming to an end, and while his critics have been quick to decry his lack of many major legislative achievements, there's one way in which the president has imposed his will: through executive orders.
Trump will end 2017 having signed 55 executive orders, according to the Office of the Federal Register — overtaking many of his most recent presidential predecessors. CNN noted in October that Trump had signed more executive orders during the first nine months of his presidency — having signed 49 at the time — than any other president in the past 50 years. The last president to have signed more by Oct. 13 in the first full year of his presidency was Lyndon B. Johnson, in 1964.
Now that 2017 is coming to an end, the president has still outpaced most recent commanders-in-chief on this front. President Barack Obama only signed 37 executive orders in 2009, while George W. Bush issued 51 in 2001 and President George H.W. Bush signed 31 orders in 1989. Trump's 55 orders have been beaten out, though, by former president Bill Clinton, who signed 57 executive orders in 1993, as well as Jimmy Carter, who signed 66 in 1977.
Going back further in history, however, Trump's executive orders don't feel quite as prolific. President Harry S. Truman signed 139 executive orders in 1945, Dwight D. Eisenhower signed 80 in 1953 and John F. Kennedy signed 70 in 1961. Most notably, President Franklin D. Roosevelt signed 573 executive orders in 1933 — and went on to sign 3,728 in total during his presidency.
The Trump administration has used the president's volume of executive orders as a key marker of his presidency's success. At the end of Trump's first 100 days in office, the White House touted his 30 executive orders in a press release, using the number of orders to declare Trump "has accomplished more in his first 100 days than any other president since Franklin Roosevelt."
The White House's pride in Trump's executive orders stands in stark contrast to the now-president's own comments on the campaign trail. Trump was a frequent critic of Obama's use of executive orders in office — even though Trump has now surpassed the former president's use of executive orders himself.
"The country wasn't based on executive orders," then-candidate Trump said at a February 2016 town hall in South Carolina. "Right now, Obama goes around signing executive orders. He can't even get along with the Democrats, and he goes around signing all these executive orders. It's a basic disaster. You can't do it."
Nearly two years later, Trump has seemingly reversed his opinion, using executive orders as a way to take action on everything from health care to immigration. Here are some of the more noteworthy executive orders Trump signed in 2017.
Travel ban
Trump's most notorious executive orders have been those focused on his "travel ban," which would prohibit citizens from certain countries — most of which are predominantly Muslim — from entering the United States, as well as temporarily suspend the admission of refugees. The president's first order, which was issued on Jan. 27, sparked mass protests and widespread legal challenges, which ultimately put the ban on hold.
The president then revised the travel ban with a second executive order — which was similarly struck down by the courts. A third travel ban then went to the Supreme Court, which ultimately allowed the ban to go into effect on Dec. 4. A federal appeals court ruled that the travel ban "exceeded" Trump's authority on Dec. 23, but the Supreme Court's ruling still supersedes their decision, meaning the ban will remain in effect.
The version of the travel ban that is now in effect puts travel restrictions on citizens from Chad, Iran, Libya, North Korea, Somalia, Syria, Venezuela and Yemen. Though Trump issued another order lifting a temporary ban on many refugee admissions in late October, Reuters found that the order — which also imposed enhanced vetting measures and "effectively halted" refugees from 11 specific countries — resulted in even fewer refugees being admitted. According to the Reuters report, 40% fewer refugees were admitted in the five weeks following Trump's order than in the last five weeks the ban was in effect.
Health care
Though the Republicans' attempts at health care legislation were unsuccessful in 2017, Trump still managed to take aim at the Affordable Care Act with an executive order signed in October.
The executive order called for several changes that would loosen the ACA's regulations, including allowing small businesses to band together to purchase association health plans and expanding health reimbursement arrangements that allow employers to give workers money to buy their own insurance. It also proposed extending short-term coverage policies, which aren't subject to the ACA's regulations and therefore typically offer less comprehensive coverage.
The order did not impose the changes directly, but rather asked federal agencies to consider new regulations that would integrate Trump's proposed changes, the New York Times noted. According to a Washington Post article published Dec. 25, officials are close to finishing a draft rule that would address the ideas proposed in the executive order.
Health organizations have decried the order, sending an open letter in December to the State Departments of Insurance that said they were "extremely concerned" about the executive order's potential impact. The letter was signed by the American Heart Association, America's Health Insurance Plans, Blue Cross Blue Shield Association and the March of Dimes, among others.
Sanctuary cities
Trump attempted to punish sanctuary cities, which do not detain undocumented immigrants solely due to their immigration status, through an executive order signed in January that would deny federal funding to cities with sanctuary policies.
The order, however, has not stood up to legal scrutiny. A San Francisco judge blocked the order in April, saying that it was not "legally plausible," as the Constitution gives Congress, rather than the president, control over federal spending. The judge also noted that the order violated the Fifth and Tenth Amendments in the Constitution.
Eleven states, however, are now attempting to revive the executive order, filing a joint brief in December urging the San Francisco appeals court to enforce Trump's proposed policy. The states taking part, who argue that sanctuary cities make the country less "safe," are Alabama, Arkansas, Florida, Kansas, Nevada, Ohio, Oklahoma, South Carolina, Texas and West Virginia, according to Bloomberg.
North Korea
Though Trump has frequently taken aim at North Korea through insults and vague threats on Twitter — including accidental "declarations of war" — the president took a more diplomatic route in September, when he signed an executive order imposing additional sanctions on the isolated nation. The sanctions directly targeted North Korea's shipping, banking, ports and manufacturing.
"Our new executive order will cut off sources of revenue that fund North Korea's efforts to develop the deadliest weapons known to humankind," Trump said, according to the Guardian. "The order enhances the treasury department's authorities to target any individual or entity that conducts significant trade in goods, services, or technology with North Korea."
Election integrity
Though the White House has denied the widely accepting notion that Russians interfered in the 2016 presidential election, the president did take action on a far less serious election problem: voter fraud.
In an executive order signed in May, Trump established a Presidential Advisory Commission on Election Integrity, which will "study the registration and voting processes used in Federal elections," including "vulnerabilities" that allow for fraudulent voting.
Heading up the commission as vice chairman is Kris Kobach, the Kansas secretary of state who has made a career of working to institute voter suppression measures under the guise of fighting against voter fraud — even though there's little evidence proving the fraud is as widespread as Kobach claims.
Kobach and the commission came under fire after Kobach asked each state to submit data on its registered voters for unspecified reasons, including names, addresses, political affiliations and the last four digits of their Social Security numbers. As a result, the commission has been sued by the Electronic Privacy Information Center, and the American Civil Liberties Union issued a response calling on governors and secretaries of state to refuse the request.
CNN noted in July that 44 states and Washington, D.C., had declined to provide at least certain types of voter information to the commission — drawing Trump's ire on Twitter.
Religious liberty
Trump rewarded his Christian base with an executive order defending "religious liberty" in May.
The order — which comes in the wake of such cases as the Hobby Lobby Supreme Court case targeting employer-funded birth control and the Oregon bakers who refused to bake gay wedding cakes — takes aim at the Johnson Amendment, which prohibits religious groups from endorsing political figures, by telling the secretary of the treasury not to single religious groups out for "adverse action" if they speak out about "moral or political issues from a religious perspective."
Also included in the order are directives to "consider" repealing the mandate for employers to subsidize birth control coverage, as well as a call for the attorney general to "issue guidance interpreting religious liberty protections in federal law."
The religious order, however, was met with a tepid response by many religious officials, who were underwhelmed by the order's focus on the rarely enforced Johnson Amendment. The ACLU declined to take action against the order, calling it "an elaborate photo-op with no discernible policy outcome."
Trump's lawyers even downplayed the order's actual effectiveness in a lawsuit brought against it by the Freedom From Religion Foundation, arguing that the lawsuit should be thrown out since it "does not exempt religious organizations from the restrictions on political campaign activity applicable to all tax-exempt organizations."
"It looks like [the government lawyers are] saying that Trump's executive order really doesn't do anything," Dan Barker, the head of the foundation, told Politico during the law proceedings. "We've got nine attorneys, and they all have their own opinions — I just heard them in the hallways saying it looks like the executive order doesn't do anything, which is actually great if that's true."
Border security
Trump began to fulfill his promises for his border wall between the U.S. and Mexico in an executive order signed in January, which ordered the secretary of Homeland Security to "take all appropriate steps to immediately plan, design, and construct a physical wall along the southern border."
The order also took steps to expand the country's resources for capturing and detaining undocumented immigrants, including hiring additional Border Patrol agents and ordering the construction of additional detention facilities near the border. It also took aim at the "catch and release" policy that allows undocumented immigrants to be released on humanitarian grounds instead of detained.
Though Trump's presidency has sparked a wave of detentions for undocumented immigrants — targeting such immigrants as a 10-year-old girl with cerebral palsy and parents trying to get surgery for their infant son — progress on the border wall has proceeded far less rapidly. There are currently prototypes of the wall being tested in San Diego, yet Trump is facing trouble from Congress in securing funding. The president tweeted on Friday that Democrats in Congress must agree to fund the wall in exchange for the extension of the Deferred Action for Childhood Arrivals program.
Crime reduction
Despite an overall reduction in violent crimes over the past two decades, Trump took action against crime through a series of three executive orders signed in February.
The executive orders direct the attorney general to establish a task force on Crime Reduction and Public Safety, targets transnational drug cartels by telling federal agencies to "increase intelligence" sharing between law enforcement partners and use existing federal law to prosecute those who commit violence against law enforcement.
The trio of orders came under fire for targeting a nonexistent increase in crime, as well as ignoring — and potentially harming — the marginalized communities of color who have been disproportionately targeted by law enforcement.
"President Trump intends to build task forces to investigate and stop national trends that don't exist. We have seen historic lows in the country's crime rate and a downward trend in killings against police officers since the 1980s," ACLU Deputy Legal Director Jeffery Robinson said in a statement. "The president not only doesn't acknowledge these facts about our nation's safety, he persists in ignoring the all-too-real deaths of black and brown people at the hands of law enforcement."
"There are some cities that have had recent rises in violent crime, and they deserve help. And every locality in America wants to further reduce crime and violence," Robinson continued. "But task forces premised on misinformation, and looking in the wrong places for the wrong problems, are not the answer."