The Supreme Court released its very own cookbook, featuring judges' favorite recipes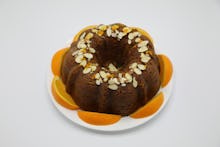 In their billowing black robes and sensible black shoes, the nine justices of the U.S. Supreme Court seem otherworldly — like wizened wizards, seemingly above us mere mortals.
But they're human and they eat food just like us. And the proof is in the pudding: Out December 2017, a new cookbook titled Table for 9: Supreme Court Food Traditions & Recipes includes the backstories and instructions for recipes developed by the justices and their families. The book, which costs $22.95, includes 43 recipes and over 100 photos.
The author behind the cookbook is Clare Cushman, the director of publications for the Supreme Court Historical Society.
"We have had queries from visitors to the Supreme Court gift shop for many years about a Supreme Court cookbook because the White House sells many," Cushman said in an email. "I thought it was a ridiculous notion as the Court is not a live-in residence and doesn't host large official dinners like the president."
Nevertheless, Cushman found herself collecting materials for a decade. To research, she asked the justices, their families and their descendants to share stories and recipes. Volunteer amateur cooks, professional pastry chefs and Cushman all tested and adapted each recipe, and Cushman's husband photographed most of the food, she noted.
"Food in good company has sustained Supreme Court justices through the ages," Justice Ruth Bader Ginsburg wrote in the book's forward.
In the cookbook, readers will discover that food provides commonality among justices who don't see eye to eye on politics. Antonin Scalia and Ruth Bader Ginsburg are two such justices.
"Justice Scalia would go shoot game — such as venison — and then bring it back for Martin Ginsburg, husband of Justice Ruth Bader Ginsburg, to cook it [into venison stew,]" Cushman said, explaining that the families were close friends and spent many occasions, including New Year's Eve, "eating Scalia's prey cooked by Marty."
Hungry for a taste of what the justices were cooking and eating? Try this orange cake recipe from Martin Ginsburg, Ruth Bader Ginsburg's late husband who passed away in 2010 and was celebrated for his home cooking.
Martin Ginsburg's Orange Cake
Ingredients:
85 grams mini chocolate chips
Preparation:
The cake:
1. Preheat oven to 350 degrees.
The syrup:
1. Shortly before the cake is done, prepare the sugar-orange juice-Grand Marnier syrup: Heat the three ingredients together in a small pot stirring until the sugar is dissolved. Do not boil.