Could Trump's bluster undermine the common ground the US and UN have reached on North Korea?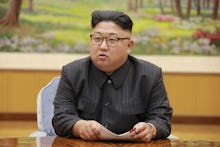 The United States has slapped sanctions on two senior North Korean officials as part of the Trump administration's effort to pressure Kim Jong Un into giving up his nuclear program, Treasury Secretary Steve Mnuchin announced Tuesday.
"Treasury is targeting leaders of North Korea's ballistic missile programs, as part of our maximum pressure campaign to isolate the DPRK and achieve a fully denuclearized Korean Peninsula," Mnuchin said in a statement.
Kim Jong Sik and Ri Pyong Chol, senior officials in the Kim regime's Munitions Industry Department, were each targeted by the sanctions, which blocked the pair from conducting business with people and companies in the United States.
It was the latest move by the Trump administration to isolate Pyongyang, which has continued its nuclear program despite threats by President Donald Trump, who has vowed to "totally destroy" North Korea if it does not abandon its nuclear ambitions.
It also followed a new round of tough, U.S.-backed sanctions passed Friday by the United Nations Security Council that Mnuchin said in a statement were "strong" and that were "further shutting down [North Korea's] ability to raise illicit funds."
Each of the MID officials sanctioned by the U.S. were already under sanctions from the U.N., according to South Korea Unification Ministry spokesperson Baik Tae-hyun.
U.S. finds common ground with U.N. on North Korea
The new round of U.N. sanctions against North Korea come amid threats from the Trump administration to break ties with the intergovernmental organization over its vote last week condemning the U.S. decision to officially recognize Jerusalem as the capital of Israel.
"When we make generous contributions to the United Nations, we also have a legitimate expectation that our goodwill is recognized and respected," U.S. Ambassador to the United Nations Nikki Haley said ahead of the vote. "When a nation is singled out for attack in this organization, that nation is disrespected. What's more, that nation is expected to pay for the privilege of being disrespected. In the case of the U.S., we are expected to pay more than anyone else for the dubious privilege."
An overwhelming majority of nations voted in favor of that measure, defying Trump and Haley's warnings.
Days after the measure passed, the Trump administration announced it had negotiated a $285 million reduction in the U.N. budget, with Haley saying that "the generosity of the American people" had been "taken advantage of" by the organization.
William Hartung, director of the Arms and Security Project at the Center for International Policy, told Mic that the anti-U.N. posturing by the Trump administration is "counterproductive" to its stated goal of de-escalating the situation on the Korean peninsula.
"The only way to build multilateral sanctions that have an impact is working through the United Nations, not blustering about what the United States will or will not do," Hartung said in an email. "In essence, the anti-U.N. Trump is undermining the Trump who claims he wants to curb the North Korean nuclear program."
Trump has repeatedly directed threats at North Korea, which has said his heated rhetoric makes war with the U.S. "inevitable."
Meanwhile, Secretary of State Rex Tillerson has sought diplomatic solutions to the crisis, even saying earlier this month that he would be willing to meet with North Korean leadership "without preconditions."
Trump, though, has publicly contradicted Tillerson, tweeting in October that his secretary of state was "wasting his time" in pursuing negotiations with Kim, whom he mocks as "Little Rocket Man."
"Save your energy Rex," Trump tweeted, "we'll do what has to be done!"
Tillerson on Tuesday spoke by phone with Russian foreign minister Sergey Lavrov about North Korea, according to State Department spokesperson Heather Nauert. "Neither the United States nor Russia accepts [North Korea] as a nuclear power," Nauert said in a statement.
Russia has recently suggested it could be a "mediator" between Washington and Pyongyang.
The Trump administration has unilaterally sanctioned North Korea six times before, according to Baik.
The latest round comes weeks after North Korea conducted an intercontinental ballistics missile test in late November.
"We will take care of it," Trump said at the time.
According to Hartung, the sanctions "are only useful if they are later gradually lifted in the context of talks that incrementally freeze and reduce North Korea's nuclear program."
"The larger question is whether Trump sees sanctions as a prelude to negotiations — the only way they make any sense — or as an effort to get Kim Jong Un to give up his nuclear program while getting nothing in return," Hartung said.
Despite their criticisms of the U.N., both Trump and Haley praised the Security Council's toughened sanctions.
"The unity this council has shown in leveling these unprecedented sanctions is a reflection of the international outrage at the Kim regime's actions," Haley said Friday.
"The World wants Peace, not Death!" Trump tweeted.
North Korea remained defiant, slamming the U.N. sanctions as an "act of war."