These actors could make history at the 2018 Golden Globes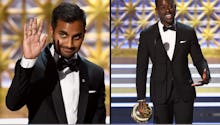 The 2018 Golden Globes — the show that kicks off awards season in earnest — is fast approaching, and film and TV buffs everywhere are readying their predictions.
This year's Golden Globe nominations did have some noteworthy snubs — no women were nominated for best director, for one — but they also put a small handful of actors in the position to make history come January. Here are the nominees whose wins could break barriers Jan. 7, when the 75th Golden Globe Awards, hosted by Seth Meyers, takes place at the Beverly Hilton in Beverly Hills, California.
Aziz Ansari, Master of None
Actor and director Aziz Ansari is nominated for best performance by an actor in a television series musical or comedy, his second Golden Globe nomination in that category, for his starring role as Dev Shah in the Netflix series Master of None. Ansari also cocreated, coexecutive produces and writes for the series.
Ansari has won several awards for Master of None, including two Emmy awards for outstanding writing for a comedy series, but if he were to take home a Golden Globe in January, Ansari would be the first Indian-American actor to score a win in that category.
Ansari's work on Master of None has explicitly grappled with the lack of Indian-American representation in Hollywood, most notably in the season 1 episode "Indians on TV." Speaking about that episode to Entertainment Weekly in 2015, Ansari said it was born out of the idea that, despite some progress, "it's still, like, there's one Asian guy. Does this group of people ever see another Asian guy ever? Just the one guy? It's just him? Is that it? So that's what we started talking about: 'There can be one, but there can't be two.'"
Sterling K. Brown, This Is Us
Sterling K. Brown, who is nominated for best performance by an actor in a television series drama for his role as Randall Pearson on the NBC family drama This Is Us, already made history with an Emmy win in September. Brown became the first black actor to win in his category in nearly two decades when he took home the Emmy for outstanding lead actor in a drama series.
Now he's got the chance to make history at the Golden Globes — if he wins in January, Brown would be the first black actor to ever win in the category.
Speaking to Variety in September after his Emmy win, Brown expressed that he was hopeful his own success would help pave the way for more roles for black actors, saying, "You have to have the roles and the opportunities, but you have to have the people in that writers' room, the creative minds behind it, to make it worthy of the consideration. ... To paraphrase Nate Dogg, 'It ain't no fun if the homies can't have none.' I look forward to seeing other brothers step up on that stage."
Issa Rae, Insecure
Issa Rae, the creator and star of the HBO series Insecure, is nominated for the Golden Globe award for best performance by an actress in a television series musical or comedy. If she wins in January, Rae, who plays Insecure's main character Issa Dee, would be only the fourth black woman to win in her category.
As the first black woman to create and star in a scripted series for premium cable, Rae has already shattered barriers. In an essay for Time, she described achieving success in an industry that was actively throwing up roadblocks to keep her out. "There's so much subtlety in the sexism and racism in this industry that you either have to call it out and risk being shunned, or move past it and find your own entryway," she wrote.
"I'm definitely in the latter category. I put my blinders up and ignore it: 'Nope! I'm going to do it anyway or find another way in.'"
In 2017, Black-ish's Tracee Ellis Ross won the Golden Globe in the same category, becoming the first black woman to do so since Debbie Allen won for Fame in 1983. Ross dedicated her acceptance speech to "all the women of color and colorful people whose stories, ideas and thoughts are not always considered worthy and valid and important."
Daniel Kaluuya, Get Out
Daniel Kaluuya, star of the horror-comedy film Get Out, is nominated for the Golden Globe for best performance by an actor in a motion picture musical or comedy. The film's inclusion in the musical or comedy category as opposed to drama caused some controversy, but director Jordan Peele has defended the decision, telling Deadline in November, "There's no category for social thriller. So what? I moved on."
Kaluuya has already won several awards for his role as Chris, Get Out's main character who visits — and then escapes — his white girlfriend's homicidal, racist family. If he wins the Golden Globe in January, Kaluuya would be only the third black man to win in the category, following Jamie Foxx, who won in 2005 for his performance in Ray and Morgan Freeman, who won in 1990 for his role in Driving Miss Daisy.
Denzel Washington, Roman J. Israel, Esq.
Denzel Washington, nominated for a Golden Globe for best performance by an actor in a motion picture drama for his titular role in the legal drama Roman J. Israel, Esq., already has one Golden Globe under his belt. The actor won a Golden Globe in 2000 for his role in The Hurricane.
He's since been nominated several more times, but if he wins again in January, Washington would be the only black actor to win twice at the Golden Globes for best actor in the drama category.