Israel to name new train station near Jerusalem's Western Wall after Donald Trump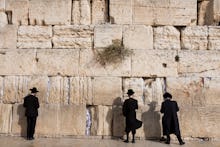 The Israeli government will name a new train station being built near Jerusalem's Western Wall after President Donald Trump, the Jerusalem Post reported Wednesday.
"The Western Wall is the holiest place for the Jewish people, and I decided to name the train station that leads to it after President Trump – following his historic and brave decision to recognize Jerusalem as the capital of the State of Israel," Transportation Minister Israel Katz said in a statement, according to the Jerusalem Post.
Trump's decision to recognize Jerusalem as the capital of Israel and kickstart the process of moving the U.S. embassy from Tel Aviv to Jerusalem has been praised by the Israeli government — but it has led to global outrage and sparked protests in the West Bank.
The United Nations also condemned the United States for the move, passing a resolution that says, "Any decisions and actions which purport to have altered the character, status or demographic composition of the Holy City of Jerusalem have no legal effect, are null and void and must be rescinded in compliance with relevant resolutions of the Security Council."
Nikki Haley, the Trump administration's U.N. ambassador, issued what sounded like a threat to the countries that voted for the resolution — countries that included longstanding U.S. allies such as the United Kingdom and France.
"The United States will remember this day in which it was singled out for attack in the General Assembly for the very act of exercising our right as a sovereign nation," Haley said after the vote. "We will remember it when we are once again called upon to make the world's largest contribution to the United Nations, and we will remember it when so many countries come calling on us, as they so often do, to pay even more and to use our influence for their benefit."