Roy Moore files lawsuit to block Doug Jones from being seated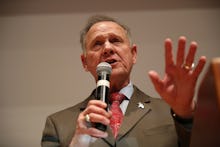 Alabama Republican Roy Moore filed a lawsuit late Wednesday night to try and challenge the results of his loss to Democratic Senator-elect Doug Jones, hours before state election officials were set to certify Jones' win.
In the filing, Moore's lawyer alleged that voter fraud led to Moore's near 22,000-vote loss to Jones earlier this month and called for a new election.
The "fraud" Moore's lawyer points to is higher turnout in Democratic areas of the state and lower turnout in the rural and more Republican areas.
It also points to some pre-election polls that showed Moore leading, as well as exit polls — neither of which are evidence of fraud.
The lawsuit also cites "experts in elections" — including one who posts conspiracy theories about former President John F. Kennedy's assassination, according to the New York Times.
Jones was set to be certified the winner of the special election on Thursday at 1 p.m. CST.
And Alabama Secretary of State John Merrill told the Associated Press that despite Moore's lawsuit, Jones is still set to be certified the winner at that time.
"It is not going to delay certification and Doug Jones will be certified (Thursday) at 1 p.m. and he will be sworn in by Vice President Pence on the third of January," Merrill told the Associated Press of Moore's lawsuit.
Moore, a former Alabama supreme court judge, is known for legal theatrics.
After the U.S. Supreme Court made same-sex marriage legal, Moore tried to block Alabama judges from issuing same-sex marriage licenses in the state right before they were set to begin issuing them. That move ultimately led to Moore's suspension and ultimately second removal from the state supreme court bench.
Dec. 28, 2017 10:03 a.m.: This article has been updated.