Uber Eats drivers might be stealing your food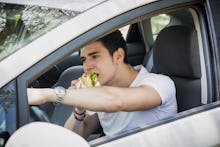 I try not to order from Uber Eats often, especially since I live on the corner of a Chipotle and a supermarket. A girl can only have so many burrito bowls, though, and the thought of standing in line with Seattle's finest at 8:30 p.m. on a Friday night when I am starving means I'd likely end up with Ben and Jerry's Half Baked instead of something healthy.
In early November, I was faced with this exact dilemma, so I ordered a salad from a popular burger joint. The restaurant I ordered from is a little shack in a suburb of Seattle, sitting an entire county north of Seattle.
I've ordered from them before, always a full cobb salad. I never had a problem with either the restaurant or Uber Eats until this night; I had just made the cut-off for ordering, at 8:25, as the restaurant closes at 9 p.m.
The approximate delivery time was fast, at 8:50. Uber drivers often drive in pairs, with a friend or sibling, so one can run in and grab the food without trying to find parking, and drop it off for the same reason. My driver ended up having an expected arrival time of 9:17, which didn't bother me (I was snacking on dry cereal, so my crankiness levels weren't skyrocketing yet.) I noticed the Uber driver was about four minutes away on my app, so I headed downstairs and out the door of my complex.
I watched him approach my complex, on my app.
I watched him keep going past the complex, on my app.
And then I saw a screen appear that my delivery had been cancelled.
My crankiness levels were not so low anymore.
I marched over to the grocery store and bought all the junk food my heart desired (and you bet I bought that Half Baked ice cream) and tried to figure out what happened. I contacted Uber via Twitter and its support page. "We have checked the trip and it seemed that the delivery partner encountered problems on the way to deliver your order and was forced to cancel the order," Uber said in an email. "While we are unable to compensate you for the inconvenience, we want to assure you that we take all feedback extremely seriously," the representative said. "I know that this is not the best answer that you're looking for but we're still hoping that you'll give Uber Eats another shot."
Uber did not respond on Twitter, and a press representative declined to comment on the record.
The next day I contacted the restaurant, and someone I spoke to on staff mentioned that this happens a lot with their restaurant, especially late at night. Apparently the drivers can't find the person who ordered it. They said they guess the drivers just throw it away.
In my case, I was told the driver tried to call me and couldn't get ahold of me, but there was never any proof given that a call was attempted. My phone never rang. A driver has never had a problem finding my apartment, let alone finding me to drop off food.
How big of a problem is this?
When I thought about the type of meal I ordered, the timing of of the order (after the restaurant closed) and the complaints Uber drivers have about their pay, I did some research around how many other Uber drivers do this as a tactic.
In other words, some seem to operate Uber Eats as a scam to steal food for survival.
Uber drivers have posted in online forums detailing exactly this — and why they do it.
On the forum Uberpeople, user Ab85 said "I use Uber Eats to get free food, I pick it up and never say I did when I go to the restaurant."
Another forum user, a moderator who goes by "Jagent," explained Uber Eats drivers can "just accept an eats order and tell Uber you ran out of gas or got a flat. You can tell them you dropped the food, a hobo attacked you, you think the food smells funny, anything really... and Uber will instruct you to throw the food away. Nothing bad happens to you. No need to steal it from the restaurant."
Ab85's justification was that Uber steals drivers' money (likely referring to the fact that due to its pay structure, some drivers can end up making very little per shift) but none of the drivers who post on this forum seem to have been busted so far.
Others have already been caught, including a man in San Francisco who was jailed for stealing $25,000 worth of food.
It's likely that we will all experience this at one point in our Uber Eats lifetime, but one of the best ways to make sure you don't end up with your food stolen is to check the Yelp reviews of an unfamiliar restaurant before ordering. The restaurant I ordered from has quite a few with reviews about Uber Eats orders never reaching their destinations, or otherwise calling the restaurant poorly operated. Uber takes a 25% cut of all Uber Eats orders, and drivers are paid only a pickup fee, a drop off fee and for mileage. They can also be tipped.
In the event of stolen food, it could be because the food is worth more than they would make off the trip.
This pay structure validates a nagging feeling I have that a 20-mile drive for my salad wasn't financially worth it to the Uber Eats driver. That job only makes around $11 per hour, according to Glassdoor, so combined with the time of the day, that driver may have decided he was hungry and would rather just take off with my meal.
Keeping your orders local and with restaurants that will still be open when scheduled to arrive might help prevent problems caused by Uber drivers having to go out of their way or ensure you can get another order delivered again, if you're still set on the meal.
Also, be aware that contacting Uber might not resolve your situation. I didn't get credit for my potentially stolen meal. I still use Uber Eats, but the experience also encouraged me to start cooking at home more often.