Roy Moore's lawsuit dismissed minutes before Doug Jones' victory set to be certified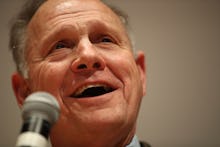 Roy Moore's lawsuit seeking to invalidate Democratic Senator-elect Doug Jones' special election victory in Alabama was dismissed by a judge Thursday afternoon, less than half an hour before state election officials certified Jones' win.
Moore filed suit late Wednesday night, claiming widespread voter fraud.
Moore's lawyer claimed that increased turnout in heavily black and Democratic areas, and lower turnout in rural and more Republican areas, was proof of rampant fraud in the Dec. 12 special election. The lawsuit also claimed that pre-election polls and exit polls that showed a close race also proved fraudulent activity— a dubious claim. Jones won by an estimated 1.5%, or approximately 22,000 votes.
However, on Thursday afternoon Alabama Circuit Court Judge Johnny Hardwick dismissed the lawsuit with prejudice, meaning Moore cannot re-file another lawsuit with the same claims.
Hardwick dismissed the suit because he said the court does not have jurisdiction over election results, based on a provision of Alabama law.
Alabama election officials already said Thursday that Jones would be certified the winner of the election, despite Moore's lawsuit. Hardwick's dismissal of the lawsuit made that outcome clearer.
Jones was ultimately certified the winner shortly after the lawsuit was dismissed.
Moore, in a statement after the vote certification, defended his claim of voter fraud, but sounded resigned to Jones' win.
"I have stood for the truth about God and the Constitution for the people of Alabama," Moore said in a statement. "I have no regrets. To God be the glory."
Dec. 28, 2017 3:50 p.m.: This article has been updated.