The 5 most pressing foreign policy problems facing the Trump administration in 2018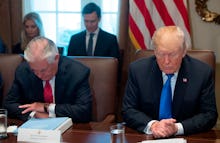 Secretary of State Rex Tillerson this week wrote in a New York Times op-ed that he is "proud" of what the administration has accomplished so far, urging Americans to be "encouraged by the progress the State Department and United States Agency for International Development have made in pushing for global peace and stability."
"In spite of the challenges, I remain optimistic about the power of diplomacy to resolve conflicts and advance American interests," Tillerson wrote Wednesday.
But many of the most pressing foreign policy problems that vexed the United States in 2017 will continue into the new year — and it isn't entirely clear in most cases what strategy, if any, the administration is using to solve them.
Here's what's on President Donald Trump and Tillerson's slate in 2018:
North Korea's nuclear threat
The situation on the peninsula continued to worsen over 2017 as Trump's threats to "totally destroy" North Korea haven't deterred Kim Jong Un from continuing his nuclear provocations.
Tillerson, as he noted in his op-ed Wednesday, has pursued diplomatic solutions to the crisis, even saying at one point that he would be willing to sit down for negotiations "without precondition."
Trump, though, has publicly contradicted the secretary of state, repeatedly suggesting that there may not be a peaceful solution to the problem.
Trump's heated rhetoric has introduced a new complicating factor into an already complex situation — and may have escalated the potential for nuclear war.
"I think it's increasing every day, which means that we are in a race — really, we are in a race to be able to solve this problem," national security adviser H.R. McMaster said earlier this month.
The U.S. and the United Nations each made further efforts to increase the diplomatic pressure on Pyongyang as the year has come to a close, tightening sanctions on the country and two top officials overseeing its nuclear program.
Russia's power play
The administration is continuing to grapple with the fallout from Russia's apparent interference in the 2016 U.S. election.
Tillerson wrote Wednesday about the need to push back against what he described as "Russian aggression," keeping in line with the aggressive national security strategy the administration announced this month.
But the administration's ability to deal with what Tillerson called a "resurgent Russia" has been undercut by lingering questions about possible collusion between the Kremlin and the Trump campaign — and the president's apparent unwillingness to hold Putin accountable.
Though the White House has said Trump believes in the intelligence community's conclusion that Russia meddled in the presidential election, he has suggested that he may accept Putin's denial that any such hacking took place.
"Every time he sees me, he says, 'I didn't do that,'" Trump told reporters in November. "And I believe, I really believe, that when he tells me that, he means it."
Trump has also aggressively pushed back against the investigations into his ties to Russia, calling the whole thing a "witch hunt."
But he expressed confidence in a bizarre interview with the Times this week that he would be cleared by special counsel Robert Mueller's investigation — and has apparently been told by his lawyers that the probe will wrap up soon.
But Mueller hasn't given any indication that he is getting ready to conclude his investigation and the probe is likely to continue well into 2018.
Fallout from Jerusalem decision
The Trump administration has held that stability in the Middle East is predicated on a peace deal between Israel and Palestine.
But the peace agreement that has eluded past U.S. administrations seems even more complicated now, following Trump's decision in December to officially recognize Jerusalem as the capital of Israel.
The move was met with protests and condemnation from the U.N. According to ambassador Nikki Haley, the decision doesn't change anything about the peace process — but the U.N.'s condemnation will impact how the U.S. regards other countries.
"The decision does nothing to harm peace efforts," Haley told the U.N. General Assembly before it passed a resolution slamming Trump's move. "But this vote will make a difference in how Americans look at the U.N., and on how we look at countries who disrespect us in the U.N."
Ongoing humanitarian crises
The Trump administration also faces continuing humanitarian crises in places like Syria, Yemen and Myanmar.
Syria remains beset by civil war.
Trump ordered a strike on the Assad regime in April after the Syrian strongman launched a devastating chemical attack on his own people.
"Tonight, I call on all civilized nations to join us in seeking to end the slaughter and bloodshed in Syria and also to end terrorism of all kinds and all types," Trump said at the time. "We pray for the lives of the wounded and for the souls of those who passed. And we hope as long as America stands for justice and peace and harmony will in the end prevail."
He and Putin issued a joint statement in November announcing that there was no military solution to achieving peace in the war-ravaged company.
In Myanmar, the persecuted Rohingya minority have been fleeing ethnic cleansing for years, escaping to nearby Bangladesh. But the situation has become more dire amid a new dramatic crackdown on the Rohingya that began in August.
The Trump administration officially recognized the violence as ethnic cleansing in November and Tillerson announced that the administration will seek "targeted sanctions" in response to the crackdown, but will avoid sanctioning the Myanmar government as a whole, according to the Times.
The administration will also need to face an ongoing crisis in Yemen, where the U.S. conducted a controversial, chaotic raid in the opening days of Trump's presidency.
The country has been enmeshed in a brutal civil war that has taken a devastating toll on civilians, according to the U.N. The situation became more grave late this fall, when Saudi Arabia — which backs the government of Yemeni President Abdrabbuh Mansour Hadi — instituted a blockade.
Trump in December urged Saudi Arabia to lift the blockade, but has come under fire for what critics say has been a largely apathetic response to the crisis — and for providing the Saudis with weapons and aiding their intelligence operations.
According to CNN, though, Trump has been increasingly concerned with the deteriorating situation in Yemen.
"He was the most fired up that we've seen him since the chemical weapons attack in Syria," an administration official told CNN, describing a recent phone call about Yemen between the president and British Prime Minister Theresa May.
The continuing threat of international terrorism
The Trump administration has made gains in its fight against the Islamic State in Iraq and Syria.
But both ISIS and al-Qaeda still have some power, and experts warned recently that 2018 could see a surge in terror attacks — including against the West.
"ISIS will want to show that they are still in the fight, and their followers remain as fanatical as ever," Lewis-Sage Passant, a former British Army intelligence officer, told CNBC this week. "The number of attacks globally will likely increase as the group switches focus from the war in the Middle East to international terrorism."
The administration is continuing to battle ISIS, announcing Friday that it conducted raids on targets in Iraq and Syria late this month. It will also focus on Afghanistan and Pakistan, Tillerson wrote in his Times piece on Wednesday.
Trump has also tied his hardline immigration proposals to his administration's anti-terrorism efforts.
After Sayfullo Saipov, a 29-year-old Florida man originally from Uzbekistan, drove a rented truck onto a Manhattan bike path in October, killing eight and injuring several others, Trump called for the "Diversity Visa Lottery Program" to be eliminated and for "extreme vetting" to be strengthened.
"Being politically correct is fine," Trump tweeted at the time. "But not for this!"