These 13 TV episodes tell the story of 2017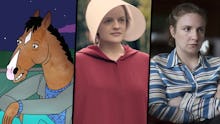 There was no escaping 2017 in 2017. Even in the realm of television, it felt as though pretty much everything was somehow a comment on "The Trump Era" or "The Way We Live Now." It was exhausting at times, but also fascinating to see TV creators work through some of the biggest issues facing our culture, more or less in real time.
So we've decided to highlight the TV episodes that best reflected the major themes of 2017. This isn't a list of the best episodes of TV from this year — if it was, we'd have to include Nathan for You's incredible season finale, Master of None's Emmy-winning "Thanksgiving" episode and surely something from The Leftovers' stunning farewell season. But, no, this is us looking back at the TV episodes that felt the most like 2017.
That means we came up with a handful of big-picture topics that kept recurring throughout the year — political awakening and resistance, women speaking out against sexual misconduct, to name a few — and cherry-picked episodes that tackled those ideas. We limited it to one episode per series, and some subjects were heftier than others, so that's why certain themes have more entries.
And with that, here's the story of 2017, as told by 13 TV episodes.
Confronting abuse
Girls, "American Bitch"
Hannah wrote about the stories in a piece she got published online, and Palmer's asked her to talk with him in person so he can explain his side of things. What follows is a masterpiece of a half-hour, wonderfully acted by both Dunham and Rhys, as they spar verbally and intellectually about the nature of consent, power imbalances, the way information spreads in our current moment and the importance of believing women. (It's worth noting that the real-life Dunham publicly waded into these topics this year, without the same level of nuance and clarity.)
As the two characters go back and forth, and as Palmer eventually convinces Hannah to let her guard down, you feel him circling her like a shark. He basically offers a clinic in how these sorts of men often get what they want: He flatters her, listens to her and shares details about himself with her, all before he does something that crosses a line — in this case, he matter-of-factly exposes himself to her. But it's the episode's closing image that resonates most strongly. In a rare bit of surrealism for Girls, we see Hannah walking out of Palmer's apartment building, while a seemingly endless line of out-of-focus women stroll into the entrance, one after another.
"American Bitch" is available for streaming on HBO Go and HBO Now.
— Kyle McGovern
One Mississippi, "Can't Fight This Feeling"
When Kate (Stephanie Allynne) pitches her boss Jack (Timm Sharp) on an idea, he starts masturbating while sitting at his desk. Director Minkie Spiro perfectly captures the disorientating and horrifying scene as Kate, frozen and unsure what to do, trails off until he finishes and she quietly leaves the office. It's a scene that directly takes on C.K. without naming him, and that takes on the overall culture of sexual harassment in the workplace. It also shows how necessary it is to believe women; Tig believes Kate (even when Jack flat-out denies it) and never once questions her. That's how it should be.
"Can't Fight This Feeling" is available for streaming on Amazon.
— Pilot Viruet
Big Little Lies, "You Get What You Need"
Near the episode's end, we see Perry for the monster he is when Celeste and Jane exchange taken-aback glances and realize that they share a tormentor. A fight then erupts, as Perry reacts to being found out by attacking Celeste and beating back Jane, Reese Witherspoon's Madeline and Laura Dern's Renata.
Zoë Kravitz's Bonnie sees the violence from afar and interferes, pushing Perry down a flight of stairs. With that reveal, we get the answers to the whodunnit that the premiere sets up, but the supposed murder mystery is incidental. What really makes this denouement so memorable is that it turns that story of abuse into one of triumph — a despicable man is uncovered, and a group of women join forces to defend themselves and take him down. It's exactly the sort of ending that 2017 needs.
"You Get What You Need" is available for streaming on HBO Go and HBO Now.
— Kyle McGovern
Racial tension
Dear White People, "Chapter V"
Campus police quickly pulls a gun on Reggie, demanding to see his ID even as everyone reiterates that he's a student. It's a tense scene that mirrors the very real instances of police brutality against black people, and especially black men. Reggie doesn't know if he's going to get shot, and neither does the viewer, and his usual collected demeanor is up-ended as he faces possible death. The aftermath is just as powerful: Reggie breaks down, panicking and crying alone in his room — a final shot that runs contrary to his cool and level-headed public image, but one that speaks volumes on how race issues break us down.
"Chapter V" is available for streaming on Netflix.
— Pilot Viruet
The Bachelorette, "The Men Tell All"
But the biggest flare-up related to race wasn't between Rachel and any of her suitors — it was among the men themselves. Not long after the season premiered in May, contestant Lee Garrett was exposed as having apparently sent out racist, sexist and homophobic tweets in 2015 and 2016. Then, on the actual show, he went head-to-head with fellow contestant Kenny King multiple times, calling the wrestler "aggressive" and saying King was "playing the race card" when he then called Garrett out for using that term. That was just one of several clashes he had with contestants of color throughout the season. The other suitors got the opportunity to take him to task on the annual "Men Tell All" episode. Several contestents attempted to get Garrett to admit that racism is behind his behavior, whether he knows it or not.
"The racism that is engrained in your behavior to the point of invisibility is still pushing you to behave in a certain way towards Kenny, towards Eric, toward me in a way that you don't even recognize," Anthony Battle says to Garrett at one point, as other contestants snap and nod in agreement. "Are you acknowledging that even if you didn't intend it are your actions motivated by racist thoughts that are implicitly embedded in your mentality?" It's a refreshingly frank moment. And, to be honest, it's the sort of conversation we need to be having on television more often.
A segment of "The Men Tell All" is available for streaming on YouTube.
— Erin E. Evans
Brooklyn Nine-Nine, "Moo Moo"
But as I wrote earlier this year, "this particular workplace comedy setting means the show can talk about the 'brotherhood' of being a police officer" while also addressing the inner conflicts that arise from being a police officer and being black — two communities that often play against each other. In the end, Holt agrees to file the complaint but Terry doesn't get the city council liaison position he was applying for — likely because of the report.
"Moo Moo" is available for streaming on Hulu.
— Pilot Viruet
Resistance
One Day at a Time, "Bobos and Mamitas"
The older women have their own ideas of "real" sexism that's more overt, or even physical, but Elena's words stick with Penelope, who ends up quitting her job in protest upon learning a male staffer makes more money than her. After a visit from her boss, Penelope's able to not only get a raise, but such a significant bump in pay that it's higher than her co-worker's. It's a personal form of resistance, sure, but still potent.
"Bobos and Mamitas" is available for streaming on Netflix.
— Pilot Viruet
The Handmaid's Tale, "Night"
Throughout the season, we watch as Elisabeth Moss's Offred, one of the titular handmaidens, struggles to maintain her sanity and humanity as a concubine in the authoritarian Republic of Gilead. Her battles are often cerebral, taking place in relative solitude, but in "Night," we finally get to see a group of women take collective action. After the handmaidens are summoned for one of the routine executions they are forced to take part in, they're surprised to see one of their own in the middle of the circle, convicted of the severe crime of endangering a child.
Rather than stone her friend Janine to death, Offred steps forward and drops her rock in an act of defiance. The other women slowly follow suit, making for a small act of rebellion that signals the women's enduring hope and resilience. Even in the face of the oppressive and seemingly unassailable patriarchy that holds them all captive, they won't give up.
"Night" is available for streaming on Hulu.
— Brianna Provenzano
Anxiety
This Is Us, "Jack Pearson's Son"
Anxiety creeped its way onto TV, too, and one episode in particular conveyed just how frightening anxiety attacks can be. NBC's award-winning drama This Is Us is known for pulling at the heartstrings, but it also puts us inside the head of Sterling K. Brown's Randall Pearson, who knows quite a bit about anxiety himself. In the season one episode "Jack Pearson's Son," we see him deal with it as a teenager, when he stresses about a research paper on Hamlet and his dad has to calm him down, reminding him to breathe. 
And maybe that's what we all can hope for in 2018: someone on standby, who can offer a hug when the weight of the world is just too heavy to bear.
"Jack Pearson's Son" is available for streaming on Hulu.
— Erin E. Evans
Gun Violence
The Carmichael Show, "Shoot-Up-Able"
This is an introspective half-hour, depicting lingering trauma, and featuring multiple conversations about guns and violence — whether characters are joking about mass-shooter stereotypes or blaming Jerrod for rolling the dice and going somewhere "shoot-up-able," like a crowded mall. But most crucially, it's an episode that respects the victims and doesn't sensationalize the shooter.
"Shoot-Up-Able" is available for streaming on Hulu.
— Pilot Viruet
BoJack Horseman, "Thoughts and Prayers"
The long and short of it: A shooting happens in a shopping mall, which complicates the release of Ms. Taken, a Taken knockoff that features a gratuitous shootout scene set in a shopping mall. The star and producers are all more concerned with what the shooting means for their movie than what it does for the nation or the people directly involved. "You always hear about mass shootings affecting other people's movie openings," says Ms. Taken star Courtney Portnoy (voiced by Sharon Horgan). "But you never think they're going to affect your movie opening."
The most telling line — the line that gives the episode its title — comes right after that, though: "Of course, my thoughts and prayers go out to the victims and their families." It's a refrain many characters echo throughout the half-hour, saying what they feel they have to say before they look back down at their phones and go about their business.
"Thoughts and Prayers" is available for streaming on Netflix.
— Kyle McGovern
Political Awakening
Black-ish, "Lemons"
Meanwhile, Dre, in one of actor Anthony Anderson's best performances, finds himself increasingly frustrated at the office because everyone can't stop arguing about (or getting outraged over) politics long enough to get any work done. In Dre's office, we get even more perspectives, including a Republican boss who refused to vote for Trump and a white woman who once voted for Barack Obama but couldn't bring herself to vote for Hillary Clinton.
But the most affecting aspect is Dre's monologue about loving a country "even though at times it doesn't love me back." He speaks up after a co-worker claims that Dre's silence means he doesn't care about America. "I didn't see all of this outrage when everything was happening to all of my people since we were stuffed on boats in chains," Dre responds. "I love this country as much — if not more — than you do. And don't you ever forget that."
"Lemons" is available for streaming on Hulu.
— Pilot Viruet
Jimmy Kimmel Live!, Season 15, Episode 53
In front of a studio audience, the late-night host revealed that his then-infant son was born with a congenital heart disease, and that the baby had to undergo open-heart surgery to survive (the child's since undergone a follow-up surgery). But Kimmel wasn't getting personal just because he was feeling emotional and raw — though he clearly was, judging from how often he choked up and how teary his eyes got; he was getting personal to get political, and was using the occasion to start an honest dialogue about the American healthcare system and who has access to affordable coverage.
This year, a guy who was known for being competent at hosting a mostly inoffensive talk show and having a long-running in-joke with Matt Damon got serious about holding government officials accountable — so much so that he dedicated more monologues to the debates around health care and gun control.
And this transformation — which inspired New York magazine to dub Kimmel, only somewhat cheekily, our new Walter Cronkite — started with that first monologue. "If your baby is going to die and it doesn't have to, it shouldn't matter how much money you make," Kimmel said then, his voice clenching. "I think that's something that, whether you're a Republican or a Democrat or something else, we all agree on that, right?" OK, maybe that's the understatement of the year.
Kimmel's May 1 monologue is available for streaming on YouTube.
— Kyle McGovern