The best dressed of 2017, from Cardi to Cate to Donald to Rihanna to Zendaya and so many more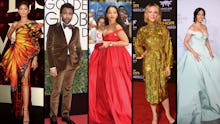 2017 may have been largely a dumpster fire, but we still got a ton of year-defining looks and style moments from the likes of Rihanna, Cate Blanchett, Donald Glover and more that let us float beyond our current hellscape and soak into a fashion fantasy.
We would like to thank all the people on our best dressed of 2017 list personally for bringing even a few seconds of joy and excitement into our lives.
Here's to you:
Lorde
With the release of her album Melodrama, Lorde had a fantastic year apart from style, but she also really did get a bit of a style overhaul. With the help of her hugely talented stylist Karla Welch, Lorde's look went from goth girl to confident, glittery, powerful woman. She wore corsets and ballgowns and looked as if she's finally really having a ball with fashion, like a young Björk, if you will.
We're very here for her.
Rami Malek
We were pretty open about our Rami Malek style obsession last year, and guess what? This year was no different, although we do feel like we saw less of Rami this year, which is unacceptable. Our favorite look of 2017 remains Malek's Met Gala look, which was bright red Dior and beautiful.
Zendaya
We've gone long on Zendaya's extraordinary style this year, with us naming her our style star of 2017. But to just cover a few things, Zendaya's style relentlessly ruled this year, with iconic looks at the Met Gala, movie premieres and awards shows. She is Rihanna-esque in her versatility and general fearlessness, pulling off a pixie cut as flawlessly as an afro. We're expecting big things for Ms. Z these next few years.
Donald Glover
Is there a better, bolder, more consistently best dressed man in Hollywood? Sorry Rami, but we just don't think anyone can best Donald Glover right now.
Dude — with the help of his stylist Ilaria Urbinati, who dresses Rami Malek and Riz Ahmed, who we're also married to — can pull off anything ... and does. A purple suit to the Emmys? Pfft. Easy. A brown velvet suit to the Golden Globes? Obviously. A subtle tropical print to the Met Gala? Girl, you know it.
For stage performances as Childish Gambino, his style remains on point.
Nicole Kidman
What can we say about our mother? Really. Where do we even begin with Nicole Kidman? We've written about how 2017 was her year, and we're all just living through it, but even just looking at her style, it's overwhelming. While for years she stuck to an aesthetic that we can best describe as "Victorian ghost chic," this year she couldn't stop wearing sparkle and bird appliqués, for some wonderful, unknown reason.
Tessa Thompson
Tessa Thompson's style, which we've gushed about at-length already, is simply, effortlessly cool. What really woke us up to her glory is that rainbow dress she wore to the Emmys (seen above, in the middle). Her style is modern, chic and daring, which are all the elements you need to make us care about you, actually.
Ruth Negga
We aren't worthy of Ruth Negga. That's the easiest way to put it. Back in February, Mic announced her as the best-dressed woman in Hollywood, and she remains at least in the top three for us still in December. At all the awards show earlier this year, like the Oscars and Golden Globes, she wore dresses that only made us want to know more about her.
Her whole thing is very Eartha Kitt-ish to us, which is the highest compliment we can say.
Céline Dion
The honor of "woman who pulled off the most over-the-top and extravagant outfits this year" goes to Céline Dion. Thanks to stylist Law Roach, who is Zendaya's stylist as well, Dion had a fashion awakening this year, popping up at the biggest fashion shows and generally just being a fearless fashion force.
Like, just look at her:
A legend.
Cate Blanchett
Not to be dramatic, but we would die for Cate Blanchett. That's just a fact. In an upper echelon of fashion Hollywood alongside Nicole Kidman and Lupita Nyong'o, Blanchett is always a woman to catch a glimpse of on a red carpet. Naturally 2017 gave her another opportunity to slay us all. She wore gold holographic dresses, suits that made us swoon and a million dresses we really would kill for.
Cardi B
Did anyone have a better 2017 than Cardi B? The answer is no. Nobody. Besides becoming a powerhouse rapper in her own right, Cardi B also finally got the appreciation from the fashion world she's long deserved, and gave us one of the best Halloween costumes of all time.
If you're still unconvinced of her greatness, take a closer look at Cardi at the Diamond Ball in a Christian Siriano blue ballgown.
Cinderella could never.
Claire Foy
It's time we all appreciate Claire Foy for the gift she is. Besides being an amazing actress (if you haven't seen The Crown yet, you're dead to us) she is also a lowkey-bordering-on-highkey fashion icon.
Foy doesn't take herself too seriously. Her style this year has been chic and easy. Every outfit she wears is something we would wear. Expect 2018 to be the year everyone gets hip to Claire Foy.
We get Blanchett vibes from this one.
Tracee Ellis Ross
Obviously Tracee Ellis Ross deserves a spot on this list. Like many of the others on this list too, we recognized her fashion greatness months ago. But for sure, 2017 was a standout year for Ross, who undoubtedly leveled up in the style department with some of our favorites being this red feather number at Cannes, her many quick changes at the American Music Awards and this red Prabal Gurung number.
Rihanna
You have no idea how hard it was to narrow down Rihanna's outfits this year to the best five.
Not including Riri this year would feel like a crime. We would arrest ourselves. Between managing an incredible new makeup brand and continuing to reinvent street style, there is just no better dresser out there. With her penchant for taking risks with designers no one's ever really heard of and switching between couture, menswear and ballgowns, she nearly killed us this year.
Except for the fact that that black Dior outfit (above) that she wore to a Dior fashion show in March added 10 years to our lives.