This week in Trump-Russia news: Where does the Mueller probe stand heading into 2018?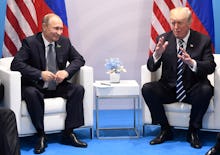 President Donald Trump claimed again this week that he did not receive help from the Russian government in the 2016 election, using the word "collusion" at least 23 times in his impromptu 30-minute interview with the New York Times Thursday.
"There is no collusion, and even if there was, it's not a crime," Trump said. "But there's no collusion."
It was a fitting interview to end a year dominated by questions about the Trump campaign's role in the Kremlin's election interference — and about the possibility that the president attempted to obstruct investigations into that meddling.
Here's what we learned from the Russia saga this year — and what we can expect as the FBI probe continues on into 2018.
Russia meddled to "undermine" U.S. — and may have succeeded
Russian President Vladimir Putin sought to "undermine public faith in the U.S. democratic process" when his administration meddled in the 2016 presidential election on behalf of Trump, according to United States intelligence.
In many ways, one can argue that he was successful.
Trump has suggested the reaction to the Russia scandal is evidence of a "rigged" system, and has publicly expressed doubt in the American intelligence — even seeming, at times, to take Putin's word over theirs.
"He said he didn't meddle," Trump told reporters in November. "And I believe, I really believe, that when he tells me that, he means it."
Trump has also repeatedly attempted to undermine faith in the press, calling reports he doesn't like — about the Russia investigation, in many cases — "fake news."
Rather than push back on the president, many of his allies in the Republican party have backed him as he attacks the FBI and special counsel Robert Mueller.
"I think the public trust in this whole thing is gone," Rep. Jim Jordan (R-Ohio) said of Mueller's probe earlier this month.
While parts of the right have gone all in on the narrative that the Russia probe is a political witch hunt propagated by Democrats to undermine Trump, the sensationalism of armchair pundits like Claude Taylor, Louise Mensch, Seth Abramson and Eric Garland have found influence among some on the left.
Mueller probe shows it's for real
That the likes Mensch and Garland are finding an audience for their Russia conspiracy theories does not invalidate the questions about Trump's many connections to the Kremlin — and his actions surrounding the May firing of then-FBI director James Comey.
Mueller has indicted two members of Trump's campaign team — Paul Manafort, the former campaign chairman, and his associate Rick Gates — and struck plea deals with former campaign foreign policy adviser George Papadopoulos and former national security adviser Michael Flynn.
The latter is particularly significant, as the high-ranking Trump ally has acknowledged he is cooperating with the Mueller probe and has already implicated top Trump staffers in his inappropriate contacts with former Russian ambassador Sergey Kislyak.
Trump claimed after Flynn's guilty plea that he was "very happy," telling reporters that "what has been shown is, no collusion. There has been absolutely no collusion."
But it has been increasingly difficult in recent weeks to suggest that there isn't at least a spark of fire behind some of all the smoke that's billowed out of the investigations for the past year.
Nevertheless, Trump's legal team has apparently continued to tell the president that they expect the investigation to wrap up soon — and that he will be cleared by Mueller.
What to expect from the Mueller probe in 2018
Mueller has given no indication that he plans on concluding his investigation anytime soon, though.
In fact, he has seemingly continued to expand the scope of his probe, reportedly questioning members of the Republican National Committee about potential ties between its digital operation and Russian bots and trolls.
He has also secured the cooperation of Flynn, whose charitable plea deal suggests he has promised the special counsel solid material — perhaps about officials higher up the totem pole than him.
That's reportedly got the president's lawyers preparing to attack the retired general's credibility.
"He's said it himself," a person who helped develop the new strategy on Flynn told the Washington Post this week. "He's a liar."
Meanwhile, the Republican have kept up their attacks on Mueller this week, leading to continued concerns on the part of Democrats that the president could attempt to give the special counsel the boot.
But the president told the Times Thursday that he believed Mueller would be "fair" because there was no collusion to find.
"I think he's going to be fair," Trump said. "And if he's fair — because everybody knows the answer already ... There was no collusion. None whatsoever."
Well, not "none," according to the president.
"There was tremendous collusion on behalf of the Russians and the Democrats," he said. "There was no collusion with respect to my campaign."