Sarah Michelle Gellar takes her 5-year-old son for a manicure, gender norms be damned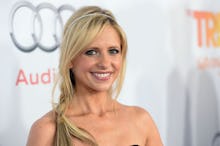 Days after a 4-year-old was publicly shamed by his celebrity uncle for opting to wear a pink and fuchsia dress on Christmas morning, Sarah Michelle Gellar reminds us that gender norms are for the breaking.
The actress, whose role on Buffy the Vampire Slayer is often credited with redefining depictions of gender rules, posted photos on her Instagram on Thursday of a family outing at the nail salon, complete with her 8-year-old daughter and 5-year-old son.
The images sparked conversation on Twitter, with many users praising Gellar for sharing. "Parenting done right," @freudianjurist wrote. "As a boy who takes care of his nails and still gets the occasional comment when they're colored, I bow to the brilliance of [Sarah Michelle Gellar] and her wonderful son," @PalmerAlan commented.
Others articulated how they wish they had been allowed to paint their nails as children. "I literally would have killed for this as a child," @CoryClayton wrote. "I always wanted to paint my nails but was too scared to ask."
One father even felt compelled to join in on the act.
Gellar joins celebs like Gwen Stefani and Brian Austin Green, both of whom have made headlines for the same seemingly innocuous act.
In a world which genders everything from yogurt to laundry detergent — and with masculinity as fragile as it is — Gellar's family outing is a reminder that anybody, any age, any gender, can enjoy the pampering of a manicure.