Report: Trump fires members of HIV/AIDS council without explanation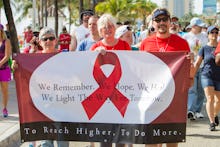 President Donald Trump has fired the remaining members of the Presidential Advisory Council on HIV/AIDS, the Washington Blade reported Thursday night.
In June, six members of the council resigned in protest, citing the Trump administration's lack of action on combating the disease.
"As advocates for people living with HIV, we have dedicated our lives to combating this disease and no longer feel we can do so effectively within the confines of an advisory body to a president who simply does not care," former PACHA member Scott Schoettes wrote in an op-ed for Newsweek.
Schoettes tweeted Thursday that Trump had fired the remaining members of the council, saying the president had "no respect for their service."
It's not immediately clear why the other PACHA members were fired.
Now-former PACHA member Gabriel Maldonado told the Blade that past presidents, such as former President Barack Obama, have replaced members of the council when they took office. Maldonado also said it was strange Trump waited almost a year into his term to fire the remaining council members.
Since taking office, the Trump administration has proposed massive budget cuts to programs designed to help fight and eliminate HIV/AIDS.
The ONE Campaign, which endeavors to fight diseases like HIV/AIDS, published a study in November that said the White House's $800 million proposed cuts to HIV/AIDS efforts would lead to "the first global increase in new HIV infections since 1995, with nearly 200,000 additional HIV infections in the first year."