A California comedian is getting sued for hosting a women-only comedy show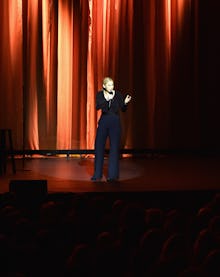 After hosting a women-only comedy event in California last month, comedian Iliza Shlesinger has been served a discrimination lawsuit by a man who was turned away at the door.
According to Variety, 21-year-old George St. George claims in the suit that he purchased a $30 ticket to a show Shlesinger hosted on Nov. 13 at Largo at the Coronet in Los Angeles, which had been advertised as "No Boys Allowed." Undeterred, St. George and a male friend arrived at the show anyway, only to be first told that they could sit in the back row and then eventually denied entry entirely.
In the 14-page lawsuit, St. George's attorney, Alfred Rava, claims that the concept of an all-women show "repudiate[s] hundreds of years of women's struggles to be viewed as being equal to men and is typical of old-fashioned sexism that might also advise a young woman that her best chance for a happy life is to ace her home economics class and learn how to make a queso dip from Velveeta to catch a good man."
In the lawsuit, Rava — who, Variety notes, has made something of a career out of these types of lawsuits against women, as has St. George — also compares the plaintiff's experience on Nov. 13 to racial segregation in the pre-civil rights movement South.
"Simply put, it is against many California laws for a business to discriminate against patrons based on their sex or other personal characteristics, such as race or sexual orientation which should surprise no one," he wrote.
This isn't the first time men have cried foul about this sort of gender discrimination in 2017. Earlier this year, there was an uproar over a handful of female-only screenings of Wonder Woman at the Alamo Drafthouse in Austin, Texas.
In the months since then, the entertainment industry as a whole has been plagued by reports of sexual misconduct against women, which has opened up a cultural dialogue about discrimination against and harassment of women in the workplace, regardless of industry. One of the more high-profile instances of sexual misconduct involved the comedian Louis C.K., who has admitted to masturbating in front of multiple women, an experience that discouraged at least one of them from further pursuing comedy.
In a statement sent to The Hollywood Reporter, Shlesinger declined to respond to the specifics of the lawsuit, but defended the women-only event and explained her inspiration for the approach.
"I will say that of the many shows I do throughout the year, Girls Night In was a singular evening that encouraged women to get together, talk and laugh about the things we go through as well as donate some money to Planned Parenthood," she said, via a representative. "It's unfortunate that this has now become an issue."