Donald Trump's 6 biggest lies in 2017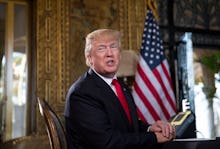 As 2017 comes to a close, Mic took a look back at the first year Navigating Trump's America.
The year was turbulent and filled with change — but there was one constant: President Donald Trump using Twitter to spew falsehoods and lies.
Since taking office on Jan. 20, Trump uttered "1,628 false and misleading claims," according to the Washington Post's Fact Checker, which chronicled Trump's statements.
Some were as simple as falsely inflating statistics — such as claiming the U.S. Coast Guard saved 16,000 lives during Hurricane Harvey in Texas, when the number was actually 11,000.
But others were more blatant, and unbelievable.
1. "I'm not gonna play much golf, because there's a lot of work to be done."
Throughout the 2016 campaign, Trump promised on numerous occasions that he'd never play golf if he were elected president — saying he wouldn't have time.
Excessive golfing was a criticism Trump levied against Barack Obama during his presidency, suggesting that Obama shirked his duties in order to hit the links.
But now that Trump is president, he's spent 87 days at his own golf properties, according to NBC News.
The Washington Post compared Trump's golfing habits to Obama's, and found that Trump golfed at a much more frequent pace than Obama did.
2. Trump falsely said 3 to 5 million people voted illegally in the 2016 presidential election.
In a meeting with congressional leaders shortly after he was sworn in, Trump reportedly claimed that between 3 million and 5 million people voted illegally in the 2016 presidential election, which led to his wide popular vote loss to Hillary Clinton.
Trump never provided any facts to back up that assertion — because no facts that back up that assertion exist.
"The president does believe that, he has stated that before," former White House press secretary Sean Spicer said during a White House press briefing in January, when Trump's false claim was dominating the news. "I think he's stated his concerns of voter fraud and people voting illegally during the campaign, and he continues to maintain that belief, based on studies and evidence people have presented to him."
Trump later walked that claim back, suggesting that there are many illegal voter registrations — another dubious claim.
And he even created a commission to investigate voter fraud, perpetuating a false claim that's not based on any hard data.
3. "Just found out that Obama had my 'wires tapped' in Trump Tower."
As the Russia scandal threatened to derail the Trump administration in the early days of his presidency, Trump made a wild claim accusing Obama of wiretapping the phones at Trump Tower in New York ahead of the 2016 presidential election.
"Terrible! Just found out that Obama had my "wires tapped" in Trump Tower just before the victory. Nothing found. This is McCarthyism!" Trump tweeted on March 4.
"How low has President Obama gone to tapp [sic] my phones during the very sacred election process," Trump added. "This is Nixon/Watergate. Bad (or sick) guy!"
Trump's claim led to weeks of controversy that swept up other Republicans, including House Intelligence Committee Chairman Devin Nunes (R-Calif.) — an adviser on Trump's transition team who went to the White House in search of evidence to back up Trump's claim.
Trump's claim was false, a fact later confirmed by the Department of Justice.
But the whole wiretap debacle is a good example of how a Trump lie can create real problems for his administration.
4. Trump falsely said it's "commonly agreed" that there was no collusion between his campaign and Russia.
Trump has railed against the FBI investigation into his campaign's possible ties with Russia for the entirety of his presidency, calling the investigation a "hoax" and "phony."
The investigation is not phony, and has led to charges against four members of Trump's campaign.
But on occasion, the president has gone even further with such false claims, including one October whopper in which he said that he was basically cleared of collusion charges.
"It is now commonly agreed, after many months of COSTLY looking, that there was NO collusion between Russia and Trump. Was collusion with HC!" Trump tweeted, referring to Hillary Clinton.
In fact, there is no agreement about whether Trump colluded with the Russians. Special Counsel Robert Mueller is still conducting his investigation, as are the House and Senate intelligence committees.
Even more, there is no agreement that Clinton — whose campaign was targeted by Russian hackers — colluded with the Russians.
5. "Believe it or not, even when I'm in Washington and New York, I do not watch much television."
During his trip through Asia in November, Trump told reporters aboard Air Force One that he actually doesn't watch a lot of television.
"Believe it or not, even when I'm in Washington and New York, I do not watch much television," Trump told reporters. "I know they like to say — people that don't know me, they like to say I watch television. People with fake sources — you know, fake reporters, fake sources. But I don't get to watch much television, primarily because of documents. I'm reading documents a lot, and different things."
However a look at Trump's Twitter feed on any given morning shows that Trump is, in fact, watching television — usually Fox & Friends, the Fox News program that gives favorable coverage to Trump.
For example, on Dec. 29, Trump pointed to a Fox & Friends segment he was watching that tried to sugar coat his abysmal approval ratings. In that tweet, Trump incorrectly said his approval rating is as good as President Barack Obama's was at this same time in his presidency.
On Dec. 18, Trump tagged Fox & Friends in another false tweet that said Republicans went "5-0 in congressional races this year." In fact, a Democrat won a House special election in California earlier this year, and Democrat Doug Jones won a Senate special election in Alabama on Dec. 12.
There are many more examples that prove Trump does watch plenty of television news — despite his claim that he doesn't.
6. The Republican tax plan will "cost me a fortune."
As the GOP rushed to pass the tax bill before the end of the year, Trump traveled the country to give speeches to build support for the proposal.
During that sales tour, Trump claimed that the legislation was going to be bad for his personal bottom line.
"This is going to cost me a fortune, this thing — believe me," Trump said during a speech in Missouri on Nov. 29. "Believe me, this is not good for me."
Of course, no one really knows how much Trump will be impacted by the tax bill because he hasn't released his tax returns — the only president not to do so in decades.
However using Trump's leaked 2005 tax return, NBC News estimated that Trump could save more than $1 billion from the tax bill.
That amounts to earning Trump a fortune, not costing him one.