Vice Media staffers demand action following 'New York Times' report on workplace harassment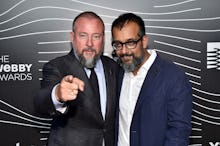 Staffers at Vice Media are calling for the company's president, Andrew Creighton, to face consequences in the wake of a New York Times report that revealed a settlement he paid to a former employee who said she was fired for rebuffing his sexual advances.
A letter from "a collective of workers at Vice U.K." publishing under the pseudonym Julia Smith, was posted to Medium on Friday. It demands an internal investigation into the company, and says that employees at Vice Media "found to have participated in abusive practices" should be removed immediately.
"Mere words and promises are not enough if Vice is to convince contributors, partners, freelancers and most importantly the women in its employ that the company is changing," the letter states. "It is difficult to see how the company can demonstrate that when it is still being run by people who oversaw habitual sexual harassment and tried to buy the silence of those that tried to speak out."
The workers called Creighton remaining in a top position at Vice "deeply troubling."
"We are unsure how he is being allowed to remain at the top of the company," the letter read.
According to a Times investigation published on Dec. 23, Creighton paid $135,000 to a former employee. The staffer "claimed that she was fired after she rejected an intimate relationship with him," the Times reported.
Vice Media has denied the allegations in a letter to the former employee's lawyer, and said that the woman had pursued a sexual relationship with Creighton on her own accord. The Brooklyn-based company later settled the suit after the former employee filed a complaint with the United States Equal Employment Opportunity Commission.
In a statement to the Times, Creighton apologized, and said he was not involved in the woman's termination.
"I apologize for the situation, and it has caused much thought in my responsibilities of care for my colleagues, and I will hold myself and others accountable in constructing a respectful workplace environment," he said in that statement.
Immediately following the publication of the Times article, Vice Media co-founders Shane Smith and Suroosh Alvi apologized more generally for "fail[ing] as a company to create a safe and inclusive workplace where everyone, especially women, can feel respected and thrive."
A spokesperson for Vice Media did not immediately respond on Friday to a request for comment about Creighton.
Employees at Vice Media's U.K. offices are not the only ones to express dismay that Creighton has remained at the company in the wake of the Times report, which detailed various instances of sexual harassment at the 23-year-old company.
Kayla Ruble, who worked at Vice News from 2014 through 2016, said in an interview with Mic that the company's response has been unacceptable. Full disclosure: Ruble recently wrote an article for Mic.
"To not even say in their statement [that they are] going to investigate and thoroughly look at the cases brought forward in the [Times] piece and these individuals named in this piece, [or] take a strong look at their behavior and reconsider their employment or their positions … That really concerns me," Ruble, who spoke to the Times for its piece on Vice and sexual harassment, said. "These are people that are overseeing a staff of people and a staff of women. I'm not at that company anymore, but it still concerns me that there are women working under men like that."
In late November, Vice Media fired three employees for "improper workplace conduct" following an internal investigation into sexual harassment, including Jason Mojica, then the head of the company's documentary films unit, as well as an editor and producer. (The company did not release the names of the others who were terminated.) The internal investigation was launched following a Nov. 15 Daily Beast report on harassment within the company.