Jay-Z's "Family Feud" video imagines Blue Ivy as president of the United States in stunning visual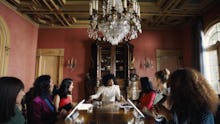 Jay-Z continues to be obsessed with legacy, a theme that drives 4:44, in his dramatic, star-studded, Ava DuVernay-directed visual for "Family Feud."
The video, which dropped Friday evening on Tidal, opens with a quote from James Baldwin: "The wretched of the earth do not decide to become extinct, they resolve, on the contrary, to multiply: life is their weapon against life, life is all that they have." The quote is borrowed from the late black writer's The Devil Finds Work, Baldwin's 1976 book-length essay on race and American cinema.
In the video, Michael B. Jordan plays an heir to the Jay-Z empire in the year 2444. He is jealous of Thandie Newton, who plays his sister, a woman who has inherited control over the family's throne. Then, Jordan fights his companion, (Trevante Rhodes) and Rhodes kills Jordan. Newton has no remorse over her brother's death as she maintains her power.
Later, Omari Hardwick is a co-president of the United States — with a Native American woman, portrayed by actress Irene Bedard, as his co-leader — and asked about his family sins. He then references his ancestor, Blue Ivy, and the work she and the foremothers did to revise the constitution.
Yes, Jay-Z and DuVernay envision Blue Ivy as the future president of the United States. In the scene, "President Blue Ivy Carter," played by Susan Kelechi Watson (NBC's This Is Us) is sitting at the head of a table with seven other women in the year 2050.
Mindy Kaling, Janet Mock, Rosario Dawson, Jessica Chastain, Brie Larson, Constance Wu, America Ferrera and Rashida Jones all represent the Founding Foremothers of America, a nod to the inclusive coalition that it would take to realize true liberation for all of America.
As the women debate the Second Amendment and the right to bear arms, Carter references some wise words her father once told her. "Ladies, this is just like the 13th Amendment," she said, referencing the abolishment of slavery in America and the focus of DuVernay's Netflix documentary. "Some people have their liberties and some people don't. America is a family and the whole family should be free. It's like my father said when I was a little girl, 'Nobody wins when the family feuds.'"
While the "Family Feud" video makes a political statement about liberation and the power of women, it is also a personal moment in which Jay-Z comes to terms with his past and how his actions will affect his future. Neglecting his role as a father and husband can only bring divide in his family and chaos in his own life.
"Yeah, I'll fuck up a good thing if you let me/ Let me alone, Becky/ A man that don't take care his family can't be rich/ I'll watch Godfather, I missed that whole shit," he raps. In the visual, he confesses his sins to Beyoncé, who, of course, is stunning at every turn in the video.
Jay-Z's confessions are a symbol of his willingness to confront and break cycles of dysfunction passed down to him by his father, who abandoned his family as detailed on "Adnis"; and his grandfather, who molested his aunt, he revealed on another track on 4:44 "Legacy."
In "Family Feud," the rapper says goodbye to toxic behaviors to hold together his marriage and his family. His legacy's future is now free to live up to his greatest dreams, without the weight of the burdens he dealt with growing up, and the wrongs he hopes to right from his recent past.
Imagining a liberated future — with a black woman as president — is surely a beautiful step toward repentance.