Trump ends 2017 by suggesting that a President Hillary Clinton would've sunk the stock market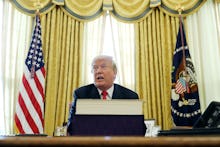 It's about to be 2018 — but you wouldn't know that from President Donald Trump's Twitter account, which seems to be stuck in the 2016 presidential election.
Trump tweeted Sunday morning that stocks would have fallen "50% down" had his vanquished opponent, former Secretary of State Hillary Clinton, was in the White House.
This isn't the first time Trump has tweeted to take aim at his erstwhile opponent. In November, Trump told her to "get on with her life."
Sunday's tweet also continues Trump's ongoing use of the stock market's performance as a marker of his presidency's success. His use of that metric marks a sharp contradiction to his comments on the campaign trail, where he warned that the strong stock market under former President Barack Obama was nothing more than a "big, fat, ugly bubble" that had the potential to burst at any moment — a potential Trump now seems to ignore.
In a separate tweet, Trump also questioned voters' desire to return to a Democrat-controlled Congress during the 2018 midterm elections, claiming that their policies "will totally kill the great wealth created during the months since the election."
"People are much better off now not to mention ISIS, VA, Judges, Strong Border, 2nd A, Tax Cuts & more?" Trump added.
His idea of people being "better off" on the subjects he listed, however, seems to be at odds with what most Americans believe. A Monmouth University poll released in September found 35% of Americans support Trump's proposed border wall, while a separate Gallup poll conducted in November reported 51% of Americans want stricter gun control legislation. The Republicans' recent tax reform legislation also has few fans among Americans, with 33% of respondents saying they favored the bill, according to a CNN poll released Dec. 19.
Democrats, meanwhile, are seeing increased support from the American public, with 50% of Americans saying they wanted a Democrat-controlled Congress, according to an NBC News/Wall Street Journal poll released in Dec. 17 — the highest margin since 2008.
Trump's tweets Sunday didn't stick to domestic issues, however, as he also weighed in on the ongoing anti-government protests in Iran.
"Big protests in Iran," Trump tweeted. "The people are finally getting wise as to how their money and wealth is being stolen and squandered on terrorism. Looks like they will not take it any longer. The USA is watching very closely for human rights violations!"
The tweet marks Trump's fourth tweet about the Iran protests, though CNN noted that experts consider his comments to be generally unhelpful — and potentially harmful — when it comes to the ongoing unrest.
"This is not about Trump, and Trump stepping into this is not necessarily helpful, because he doesn't carry any credibility in Iran," Trita Parsi, president of the National Iranian American Council, told CNN.