Hype List: What to check out this week, including 'The Chi,' 'Molly's Game' and more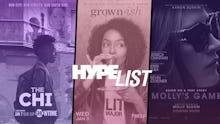 Welcome to the Hype List, a weekly recommendation series in which columnist Tirhakah Love highlights all of the pop culture happenings — movies, music, television, books and more — you need to know about.
Movie: Molly's Game
Molly Bloom's real-life, high-stakes poker games are the stuff of tabloid legend. The exclusive engagements — which began in Los Angeles, and then migrated to New York when Bloom changed coasts — reportedly featured A-list Hollywood talent (Tobey Maguire, Leonardo DiCaprio, Ben Affleck) and millions of dollars, and were detailed in Bloom's 2014 memoir, Molly's Game. Now that book's been adapted into a film of the same name, written and directed by Aaron Sorkin. (The movie began limited release on Dec. 25, but is soon going nationwide.)
The always-magnificent Jessica Chastain plays Bloom, and is joined by a sturdy supporting cast: Michael Cera is the smarmy, anonymous Player X (who may or may not be heavily based on Maguire); Kevin Costner portrays Bloom's demanding father; and Idris Elba takes on the role of Bloom's lawyer, who gets involved after the titular character runs afoul of the Russian mob and, by extension, the FBI. Molly's Game is an exhilarating watch, a talky, fast-paced picture (remember, this is a Sorkin script, and his debut as a director) that's part legal drama, part crime flick and all Hollywood insider story.
Molly's Game will be released in theaters across the country on Friday.
TV: Grown-ish
Four seasons in, ABC's Black-ish remains one of the most satisfying sitcoms on television, a success story that's inspired a new kind of hope for black comedic programming on major networks. Enter Grown-ish, a Black-ish spinoff which follows Yara Shahidi's Zoey Johnson into college. (It's also worth noting that Shahidi is starting college in the fall: She's headed to Harvard after a gap year.)
On Black-ish, Zoey's confidence is palpable. But her new setting shakes her out of her comfort zone, and leaves her looking for new confidants. That's where the audience comes in: Not only is the show narrated by Zoey, but it also features her directly addressing the camera, talking plainly about the issues she's dealing with away from home. It's the kind of directness and sincerity that should be refreshing to both college-age kids and parents of college-age kids.
Grown-ish premieres Wednesday at 8 p.m. Eastern on Freeform.
Comic: Exit Stage Left: The Snagglepuss Chronicles #1
A few weeks ago, we highlighted Doomsday Clock, the major DC Comics maxi-series of the season. But, if superhero blockbusters aren't your thing, there's a much quieter (but no less exciting) DC series you might want to check out: Exit Stage Left: The Snagglepuss Chronicles is a more realistic and startlingly resonant take on Snagglepuss, the classic Hanna-Barbera cartoon character from the '50s and '60s.
Written by Mark Russell (who gave Hanna-Barbera's Flintstones a similar treatment in 2016), this six-issue series imagines Snagglepuss as a closeted gay Southern playwright living in the '50s — a sort of twist on Tennessee Williams. But his personal life and Broadway success are put in jeopardy when he lands in the crosshairs of the House Committee on Un-American Activities, which is operating at its peak influence. The first issue hits stands shortly, and should be the start of a fascinating and curious story about censorship, civil liberties and, uh, an anthropomorphic mountain lion.
Exit Stage Left: The Snagglepuss Chronicles #1 will be released Wednesday via DC Comics.
TV: The Chi
To outsiders and pundits, the city of Chicago has largely become less of a real place filled with real people and more of a political talking point. Showtime's The Chi looks to correct that, and humanize the city on the small screen. Created by Emmy-winning Master of None writer and actress (and Chicago native) Lena Waithe, the series focuses on a group of Chicago residents whose lives are joined together by two murders, but also a need for redemption.
Politics aren't completely absent — any show about a particular location will of course touch on the factors that make that place what it is — but Waithe is much more interested in the power of people once they come together. It's about time that we see a vision of Chicago that goes beyond the headlines, and that's exactly what The Chi delivers: a vision of the city that's rooted in love, not fear or judgement.
The Chi premieres Sunday at 10 p.m. Eastern on Showtime.