Mic Wakeup: Happy New Year! Sorry about your hangover. Here's the news.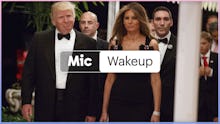 Some people will tell you that the best hangover remedy is a cup of coffee and some Tylenol. We personally think there's no better cure for what ails ya than all the news you missed while you were ringing in the new year. Here's what you need to know for Jan. 1, 2018.
Mar-a-Lago raises its prices
How did President Donald Trump ring in 2018? With a more muted version of his annual New Year's Eve celebration at his Mar-a-Lago estate in Florida. But though the usual garish celebrations were turned down, there's at least one thing that was higher this year: the price of admission to the party. And at least one leading ethicist is concerned about it.
Two anti-government protesters killed in Iran
According to the Associated Press, two anti-government protesters were killed in Iran during a clash between law enforcement and demonstrators at an unsanctioned protest on Saturday. The deadly clash took place on the third day of massive nationwide protests against governmental corruption and economic mismanagement. Here's everything we know so far.
Happy 2016!
Even though it's officially 2018, we know a place where it's still 2016, sometimes: the president's Twitter. He kicked off his Sunday morning with some new invective against Hillary Clinton, his former opponent. In a tweet, he suggested that Clinton would have tanked the stock market. It's not the first time he's gone after Hillary since defeating her in the election. It's not even the first time he's done it in the last 60 days.
Apropos of nothing, let's all aspire to be a little less petty in the new year.