Time's Up: Powerful women in Hollywood just released a plan to combat harassment in 2018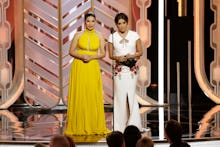 Three hundred well-known actresses and women talent agents, writers, directors, producers and entertainment executives have just released an ambitious plan to combat sexual harassment in the workplace.
The announcement of this new initiative, called Time's Up, comes on Jan. 1 — the first day after a year that has widely been regarded as a reckoning against the kinds of sexual harassment and assault many women across the country face in their jobs and everyday lives.
The initiative won't just focus on helping women in high-profile Hollywood jobs. Instead, the organizers hope to combat workplace harassment across the socioeconomic spectrum.
"The struggle for women to break in, to rise up the ranks and to simply be heard and acknowledged in male-dominated workplaces must end; time's up on this impenetrable monopoly," reads an open letter announcing the initiative.
According to the New York Times, the program will include the following:
• A legal defense fund, backed by $13 million in donations, to help less privileged women — like janitors, nurses and workers at farms, factories, restaurants and hotels — protect themselves from sexual misconduct and the fallout from reporting it.
• Legislation to penalize companies that tolerate persistent harassment, and to discourage the use of nondisclosure agreements to silence victims.
• A drive to reach gender parity at studios and talent agencies that has already begun making headway.
• And a request that women walking the red carpet at the Golden Globes speak out and raise awareness by wearing black.
The initiative is being led by a broad coalition of famous Hollywood women that includes actresses Eva Longoria, America Ferrera, Emma Stone and Kerry Washington, as well as showrunners and executive producers like Jill Soloway and Shonda Rhimes.
The commission is leaderless but will features a series of working groups led by women to combat harassment in different areas.
One working group, announced ahead of the larger rollout in December, will be led by former U.S. attorney Anita Hill. That group will be tasked with creating a plan for how to end sexual harassment in show business.
The initiative looks to continue the wave of momentum created by the #MeToo movement beyond 2017 and for many years to come.
"We want all survivors of sexual harassment, everywhere, to be heard, to be believed and to know that accountability is possible," the letter reads.