In a politically perilous move, Trump will demand funding for the wall in exchange for DACA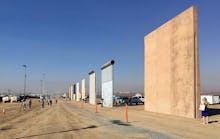 President Donald Trump looks set to demand funding for the border wall between the United States and Mexico in exchange for codifying the Deferred Action for Childhood Arrivals program into law. This could be a politically perilous move, which could tank any potential deal to shield undocumented immigrants brought to the U.S. as minors from deportation.
Dan Scavino Jr. — Trump's social media manager who is the only one authorized to tweet from the @realDonaldTrump account besides Trump himself — tweeted Tuesday morning that, "There is no DACA - without the WALL being BUILT."
That demand is unlikely to fly with Democrats, whose votes are probably needed to pass a DACA fix. Meanwhile, polling shows that if wall funding is what torpedoes the fix, it's Trump who will suffer — not Democrats.
Americans overwhelmingly support a fix for DACA — the program former President Barack Obama created that allowed undocumented immigrants who came to the country as minors to remain in the U.S. in order to attend school, join the military or work legally. Trump announced in 2017 that he was ending the DACA program, declaring that it will end in March unless Congress acts.
A whopping 86% of Americans support making DACA protections permanent, according to an ABC News/Washington Post poll from September. That same poll found that nearly two-thirds of Americans, or 62%, oppose Trump's call for a border wall between the U.S. and Mexico — a campaign promise that became a rallying cry for Trump supporters.
Tanking a deal to protect the roughly 800,000 people protected by DACA because of a demand for funding for the wall that the vast majority of Americans oppose could further hurt Trump's approval rating — which currently stands at 40% going into the 2018 midterm election year, according to the RealClearPolitics average.