Why 2018 may be an even bigger political mess than 2017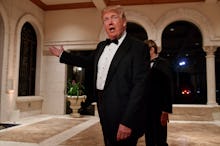 Welcome to Mic's daily read on Donald Trump's America. Want to receive this as a daily email in your inbox? Subscribe here.
Tuesday's dispatch: A messy election year
This year, Americans will decide whether to vindicate or reject the agenda Republicans have pursued through legislation, executive orders and tweets since President Donald Trump was elected more than a year ago.
The midterm elections, still about 10 months away, will be shaped by broad factors like the state of the economy, Trump's approval rating, support for Republicans who control Congress and a general sense of which party has the better plan to govern.
The result of those votes will also be heavily impacted by how Republicans address January's thorny legislative agenda.
With tax reform in the rearview, Republicans have already pointed to different paths in 2018. House Speaker Paul Ryan (R-Wis.) wants to alter popular government programs like Social Security, Medicare and Medicaid. Senate Majority Leader Mitch McConnell (R-Ky.) wants to pursue legislation that could attract support from Democrats, like investment in infrastructure.
So-called "entitlement programs," like Social Security, consistently poll with high levels of support. Trump has promised he will not cut Social Security or Medicare, and lawmakers have always been wary of trying to change those programs. Doing so in an election year could be an even tougher sell for Republicans, who are fearful of a Democratic wave this year.
But the $1.4 trillion hole in the federal budget created by the GOP tax plan could spur Republicans to demand those programs be reformed. Medicaid, which provides health care coverage to low-income Americans, has faced attacks at state and federal levels from Republicans who want to make receiving coverage more difficult.
Infrastructure spending, on the other hand, is a far more popular proposal, and one that could win bipartisan support and help Trump keep a campaign promise.
In the short term, changing large government programs or funding new roads will take a back seat to the long to-do list for Congress in January. Here's what Congress must address soon:
• Avoiding a government shutdown. To get home for Christmas, lawmakers passed a short-term extension of funding for the government. That will expire on Jan. 19. With the holidays and tax reform behind them, Republican conservatives and moderates are expected to make tougher, irreconcilable demands for their votes.
• DACA. As of March 5, immigrants with legal status in the United States granted under the Deferred Action for Childhood Arrivals program will no longer be able to renew their status. Democrats are pushing Republicans to act to fix the program before then. McConnell has said the Senate would consider a bipartisan immigration deal.
• Disaster relief. A multibillion-dollar package to fund recovery efforts in California, which was ravaged by wildfires, and Florida, Texas and Puerto Rico, which saw massive hurricane damage, must still be passed.
• Surveillance. Lawmakers extended the warrantless monitoring of foreign nationals living overseas through mid-January. Conservatives and liberals alike are uneasy with the government's ability to legally surveil residents without consent from a court.
• Health care. The Affordable Care Act's individual mandate was repealed as part of the GOP tax plan, but the program was buoyed by strong enrollment at the end of 2017. Democrats and some Republicans, including key senator Susan Collins of Maine, have demanded Congress pass legislation in January to stabilize the ACA.
Early this year, Congress will also have to address long-term funding for the Children's Health Insurance Program, as well as raising the federal debt limit.
For Republicans, 2018 will be a battle between finding consensus on governing while trying to advance partisan legislation. For Democrats, it will be a year of trying to lower Trump and Republican approval ratings further en route to a rout at the ballot box in November.
That showdown over a string of high-profile policies punted from 2017 that impact millions of Americans is set to make the politics of 2018 uncertain and messy — maybe even more so than last year.
Today's question: What are your expectations for January?
Please email us at trumpsamerica@mic.com with your thoughts.
Tuesday in Trump's America:
You should read this: Republicans rammed through a series of temporary tax breaks for a myriad of industries in their tax plan. Sorting through those tax cuts will be Washington's army of tax lobbyists. More from Politico.
Trump and immigration: The Intercept reviewed how Trump has changed U.S. immigration policy in his first year through targeting legal forms of immigration.
Colorado shooting: An Iraq War veteran shot five law enforcement officials, killing one of them, and two civilians Sunday in a Denver suburb.
Iran protests: Iranians protested for a sixth day over economic conditions and lack of political power. The regime promised a crackdown on protesters and blamed outsiders for stirring the local unrest.
The Koreas: North Korea and South Korea have said they may hold peace talks on their border next week, the first official talks in two years.
"If Trump can do it, why not me?" Dozens of Democrats — from obscure mayors and members of Congress to high-profile senators — are eyeing runs against Trump in 2020.
Al Franken steps down on Tuesday after a sexual harassment scandal. He is being replaced by Tina Smith, Minnesota's lieutenant governor.
Democratic and Republican leaders will meet with Trump Wednesday to begin discussions on funding the government and protecting DACA recipients.
Iowans sour on Trump: The Washington Post found that voters are troubled with the president in a key swing state he won in 2016. A year-end poll found only 35% of the state's voters support Trump.
Under the radar:
Minimum wage: The lowest legal wage has risen in 18 states heading into the new year.
Flying: 2017 was the safest year ever for commercial aviation. There was not a single airline passenger fatality worldwide.
Today's MicBite:
Mic has launched #WalkingWhileTrans, a project spearheaded by our own Serena Daniari, to help people understand the everyday experiences of trans people. This video introduces the terms "passing" and "clocked" — concepts trans people deal with daily.
This series is powerful and groundbreaking. Click or tap below to check it out.