Model Diana Sirokai recreates Gigi Hadid's Stuart Weitzman campaign: "I can be fat and still slay"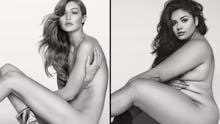 While diversity on the runway is important (and continues to tick up season to season), campaign ads (which also had a banner 2017) are what women see on a near daily basis. So when it comes to fashion, advertising is crucial in both creating, perpetuating and perhaps most importantly, evolving beauty standards.
That's why 21-year-old model Diana Sirokai wanted to send a subtle, yet powerful message in recreating Gigi Hadid's Stuart Weitzman campaign. While the pose, lighting and styling are similar, the images could not be in starker contrast, with Sirokai's curvy, stretch-marked body in opposition to Hadid's waifish, unblemished frame.
"I love Gigi. I think she's amazing and I wanted to recreate this ad to introduce diversity to high fashion brands, and hopefully they get to see it and be more open about their models," Sirokai, who is originally from Hungary, but lives in London, said in an interview with Mic. "Also to show women we all deserve to feel loved and beautiful."
For Sirokai, the message is about redefining culturally instilled beauty ideals. "I think size is not important, that's what I am trying to show: I can be fat and still slay," she said. "Ads need to use more body types so women can get their confidence back."
Sirokai's Instagram post has received over 23,000 likes so far, nearing the amount of a similar post from September, in which she recreated a Kim Kardashian West photo shoot.
"I'm happy she loved what I did," Sirokai remarked, noting that Kardashian West responded to the post with several pink heart emojis. "Everyone is admiring or hating on Kim. I did not want to show hate to her. I just simply wanted to show that Kim is beautiful and so am I. That's why I captioned the post, 'We are both women with different bodies #Slay.'"
As to future body positive reinterpretations, Sirokai has her eye out. "I always just go with the flow," she said. "So if I see something and I get inspired, yes I will do more recreating. As long as I can spread positivity to the world, I am more then happy to do so."